Tom Kha Gai ต้มข่าไก่ (Thai coconut chicken soup)
What is Tom Kha Gai?
Tom kha gai
, which is sometimes spelled 
tom ka gai
, is one of the most popular soups amongst Thai food lovers. 
Tom means to boil, kha means galangal, and gai means chicken.
 So it's a chicken soup whose main flavour comes from galangal, but another key component not mentioned in the soup is coconut milk.
Tom kha gai 
soup is available at nearly every Thai restaurant overseas, but because it's such an easy recipe, it's a dish that's perfect for simple weeknight home cooking. 
Though chicken is the original version, you can make tom kha using other proteins.
 Typically in Thailand, alternative proteins are fish or seafood, as they pair best with the flavour profile of tom kha soup.
Tom kha gai
 is a great dish to make for a party because it is gluten-free, not too spicy, has easy-to-love flavours, and it can be made vegan with modifications I provide later on in this article.
Ingredients
Here are all the ingredients for my
 tom kha gai
 recipe. There aren't that many, but each one is critical to the flavour of the soup. 
Kha
 refers to the galangal, so that's the one ingredient that's an absolute must and cannot be substituted.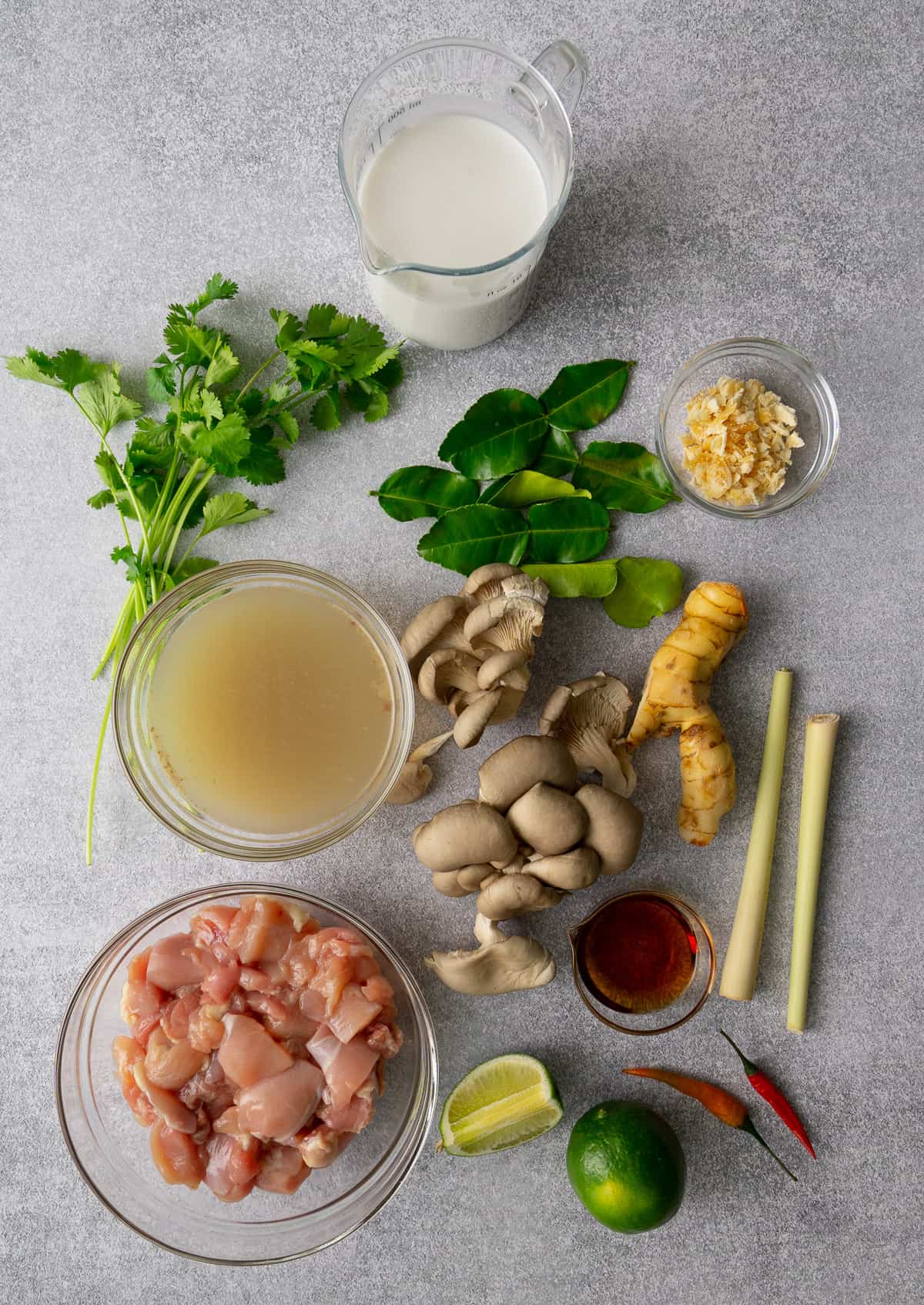 If you want to learn more about some of the Thai ingredients listed below, simply click the link to watch my "101" videos on them!
Boneless skinless chicken thighs (chicken breast is okay to use, but the methods need to be modified as per the notes in the recipe card)
Chicken broth or stock, unsalted
Coconut milk
Lemongrass
Galangal.
Makrut lime leaves (aka kaffir lime leaves)
Thai chilies
Oyster mushrooms or another Asian mushroom
Fish sauce
Palm sugar (or light brown sugar)
Cilantro or green onions for garnish
Fresh lime juice
How to Make Tom Kha Soup
Here's a bird's eye view of how to make tom kha gai, but to ensure success, be sure to 
watch the video tutorial
 in the recipe card below as it's always good to see how it's done, and I often include extra tips you don't want to miss!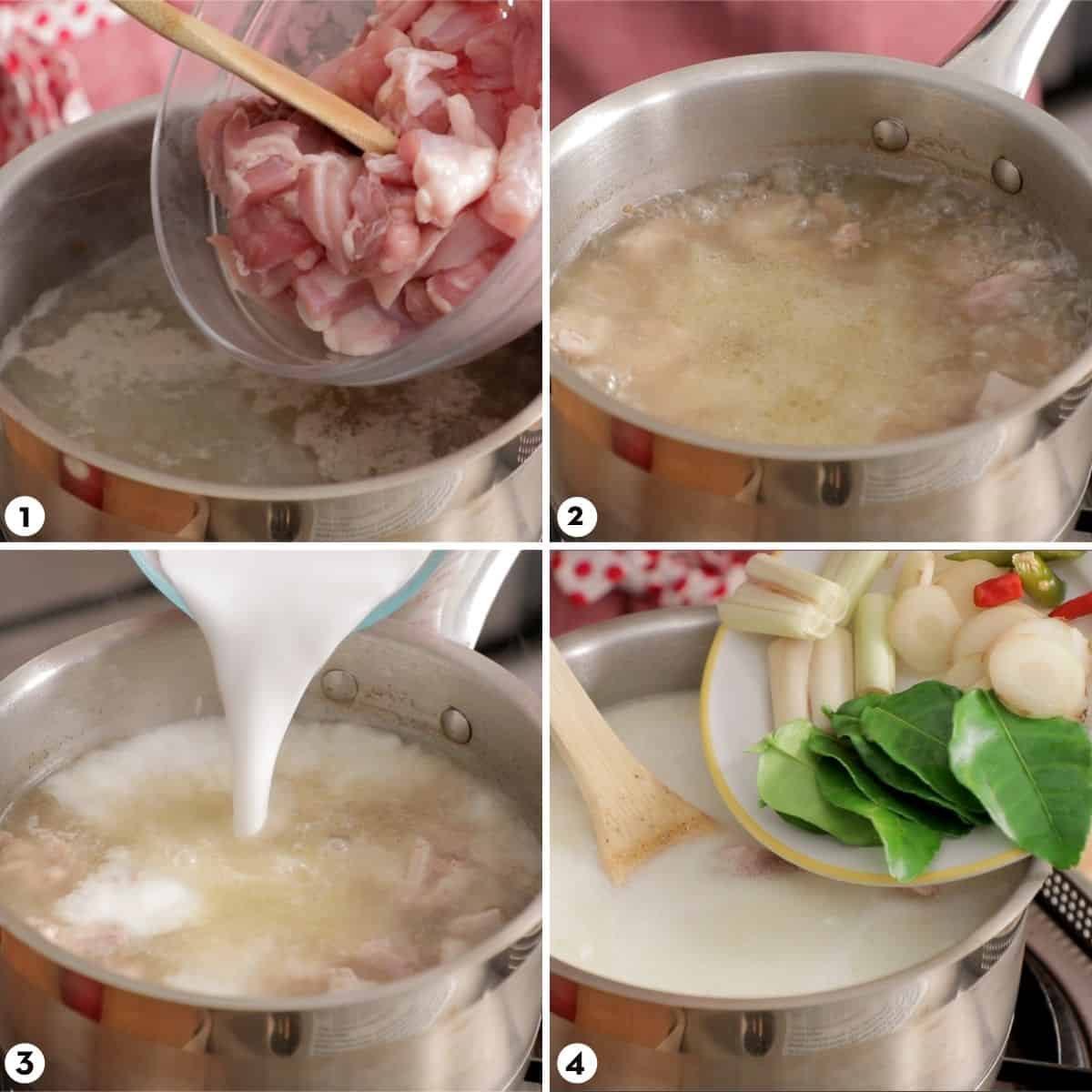 Bring chicken stock and salt to a boil, add the chicken.
Simmer the chicken for 15 minutes or until fork tender.
Add coconut milk.
Add the herbs and simmer for another 5 minutes.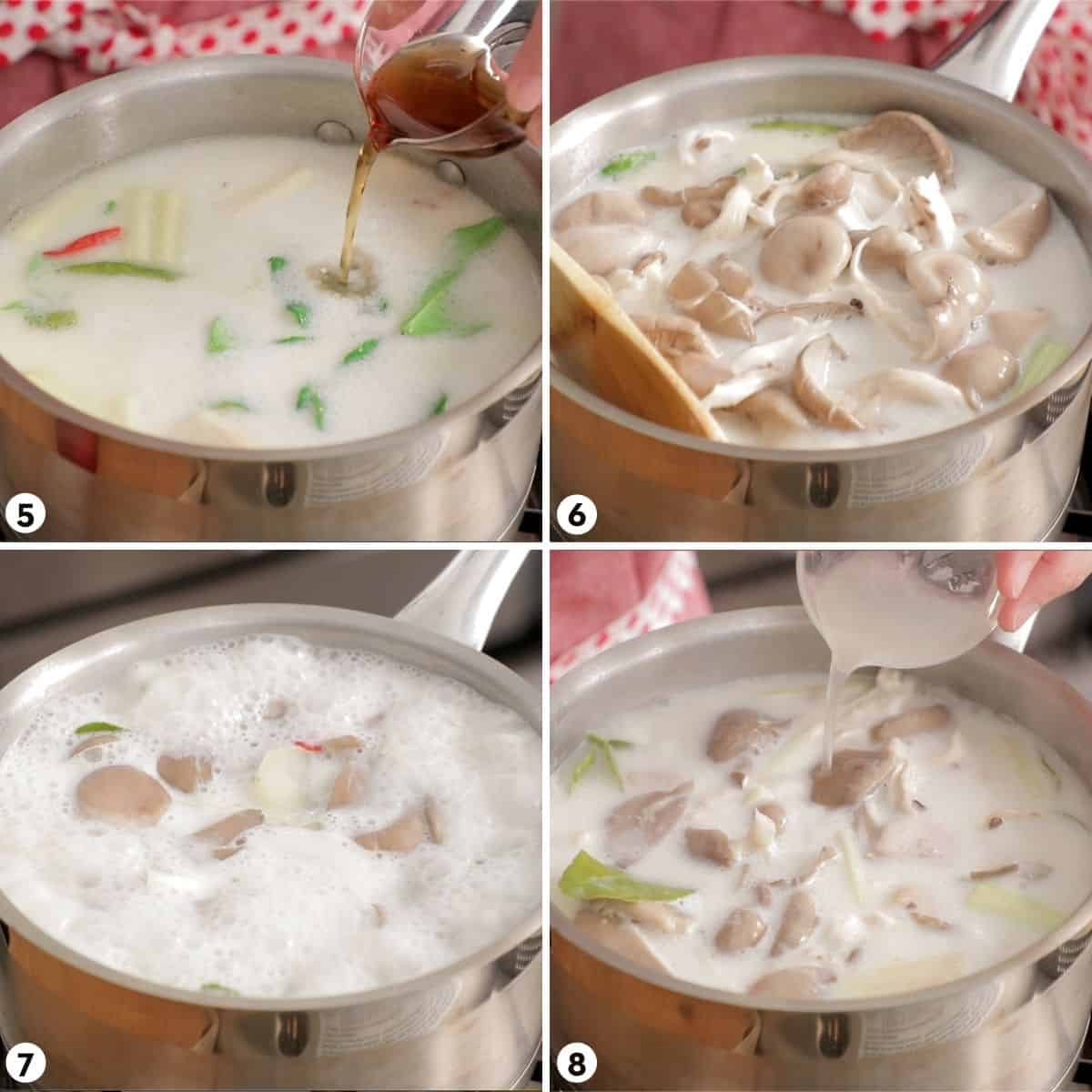 Add the fish sauce and sugar and bring back to a boil.
Add the oyster mushrooms.
Cook the mushrooms for a minute or so.
Turn off the heat, add the lime juice, then it's ready to serve with a cilantro and/or green onion garnish!
Vegan Adaptability
Even though chicken is at the heart of this soup ("gai" in tom kha gai means chicken), there is a way to make a vegan version that's equally satisfying. Here are some simple modifications:
Use vegetable broth instead of chicken. I recommend checking out the veggie stock I made for my mushroom tom yum recipe. I don't recommend Western-style store bought vegetable broth as those tend to have a flavour that doesn't work here.
Instead of chicken, I love using just a fun mix of Asian mushrooms. Oyster, shimeji, fresh shiitake, or maitake are all great candidates. Of course you can substitute tofu instead if you like it.
Add some tomatoes. Since there's only mushrooms, to add some variety and extra umami, I love to add tomatoes. Using halved cherry tomatoes are better as they are less likely to turn to mush in the soup. The combination of tomato and coconut is divine.
Use soy sauce instead of fish sauce.
Frequently Asked Question
What can I use instead of galangal?
For this dish, nothing. kha means galangal, so you really can't make this soup without it. However, if fresh isn't available, look for frozen galangal which works perfectly, and if needed you can use dried galangal as well.
No, ginger is 
n
ot a good substitute for galangal. But if you decide to use ginger instead anyway, know that the flavour of the soup is going to be quite different from the galangal version.
Can I make tom kha gai soup in advance?
Tom kha is a great soup to make in advance and it keeps well and reheats well. It should keep in the fridge for a week. Ideally you should add the lime juice when ready to serve for the best flavour, but I know it can be easy to forget, so put a note on the container to remind yourself to add the lime! Also save the green onions and/or cilantro for serving time.
NGREDIENTS
2

 

cups

 

chicken stock

, 

unsalted, preferably homemade

1 ½ 

cups

 

coconut milk

1

 

tsp

 

kosher salt

1

 

lb

 

chicken thigh, boneless skinless

, 

bite-sized pieces

1

 

stalk

 

lemongrass

, 

bottom half only, smashed and cut into 2-inch pieces

12

 

thin slices

 

galangal

, 

see note

5

 

makrut lime leaves

, 

roughly torn into big chunks, center stems removed

3-4

 

Thai chilies

, 

bruised or cut into large pieces

2

 

Tbsp

 

fish sauce

1

 

tsp

 

finely chopped palm sugar, or granulated sugar

5.5

 

oz

 

oyster mushrooms

2 ½ 

Tbsp

 

lime juice

 chopped green onion and/or cilantro, for garnish

Jasmine rice, for serving
INSTRUCTIONS
Bring chicken stock to a boil, then add salt and chicken. Let simmer gently for 15-20 minutes or until chicken is fork tender.

2 cups chicken stock,

1 tsp kosher salt,

1 lb chicken thigh, boneless skinless

Add coconut milk, lemongrass, galangal, makrut lime leaves, chilies, about half of the fish sauce, and sugar. Simmer for 5 minutes to infuse.

1 ½ cups coconut milk,

1 stalk lemongrass,

12 thin slices galangal,

5 makrut lime leaves,

3-4 Thai chilies,

2 Tbsp fish sauce,

1 tsp finely chopped palm sugar, or granulated sugar

Add the mushrooms, bring back to a simmer, and cook for 1-2 minutes or until cooked through.

Taste and add more fish sauce as needed. Turn off the heat and add 2 Tbsp of the lime juice, then taste and add more as needed. Top with green onions and/or cilantro.

2 ½ Tbsp lime juice,

 chopped green onion and/or cilantro, for garnish

Serve with jasmine rice as part of a larger Thai meal, or you can put rice in the soup and enjoy on its own. (Note: the herbs are for infusion only and are not meant to be eaten. Either remove them before serving or inform your guests.)

Jasmine rice, for serving