Thai Basil Stir Fry Sauce
What is Thai Basil Sauce?
If you go to any Thai restaurant in N. America, you might find something on the menu that is a stir fry in a brown sauce with Thai basil. It might be called 
pad kra pao, pad gaprao, or pad kra pow
 or something else. It's super popular, and I've seen renditions of this dish made with just about every protein: meat, seafood, tofu - and it all works well. The versatility of this dish is what gave me the idea for the sauce. This basil sauce will make whatever you put it on taste just like what you get from your Thai restaurant, but better, because you made it 😉
Ingredients You'll Need
Here are all the ingredients you'll need to make Thai basil sauce. Use whatever kind of basil you have + some simple pantry staples, which is the whole idea - and the peppers are optional!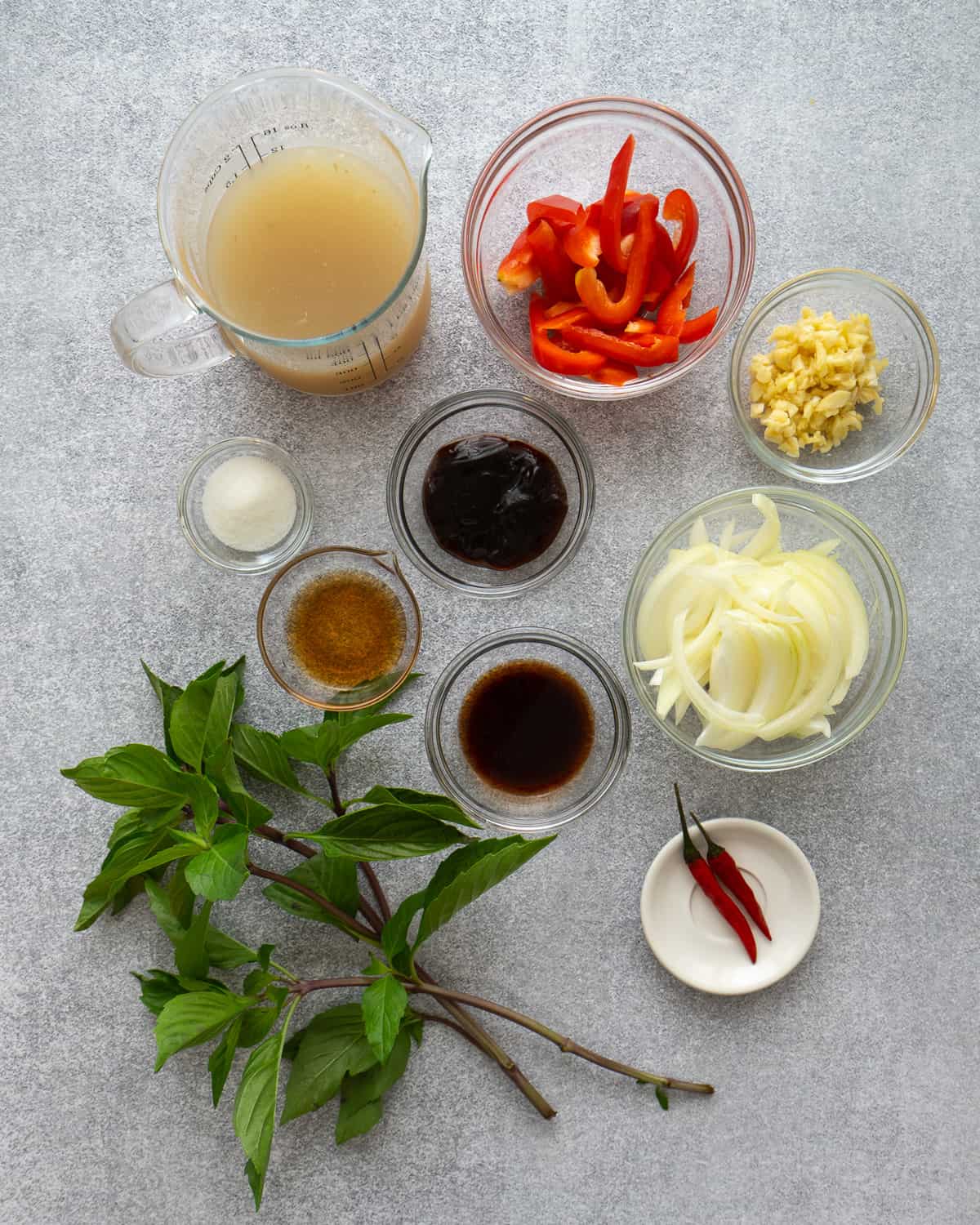 Unsalted pork stock, chicken stock or vegetable stock
Red bell pepper or other sturdy vegetable such as mushrooms, carrots or celery (optional)
Garlic
Onion
Thai chilies (optional) or ground black or white pepper
Oyster sauce
Soy sauce
Fish sauce
Sugar
Thai basil or any other kind of basil
Step-By-Step: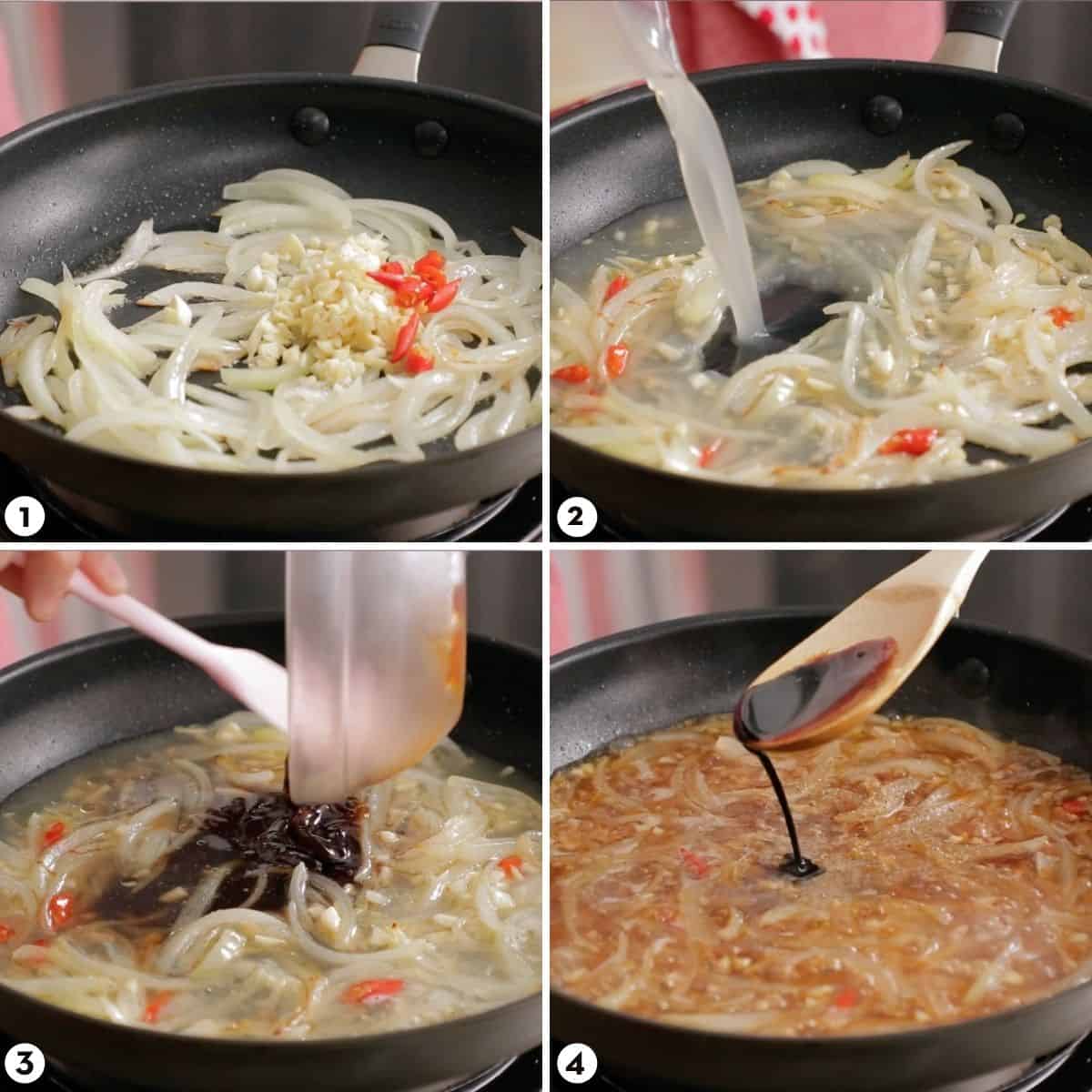 Sauté onions until translucent. Then add garlic and Thai chilies and saute until garlic is golden.
Add the stock.
Add all the sauces and seasonings.
Add black/dark soy sauce to darken colour, if desired.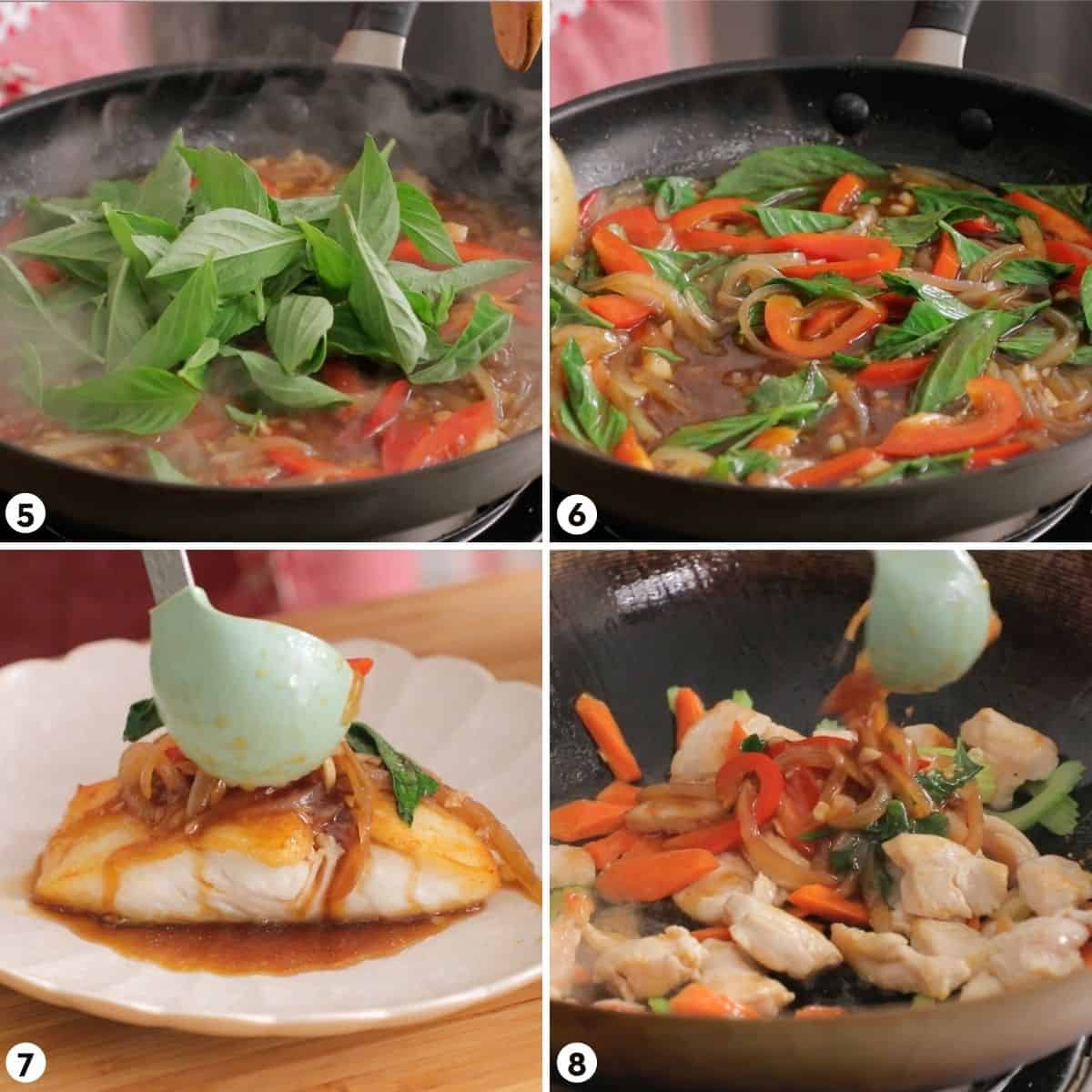 Add bell peppers and cook for a minute, then add basil.
Off heat, stir just until wilted.
When ready to use, reheat and pour over cooked protein, or...
Use as a stir fry sauce!
Cooking As a Preservation Method
The basic idea behind this recipe is the fact that cooking is a preservation method
. A short-term preservation mind you, it's not like canning, but it can still buy you enough time so you don't have to waste anything. I do this often with vegetables. Ever got excited by a sale at the grocery store and bought too many vegetables? Now they're sitting in your fridge, about to die, and you still don't have any plans for them? If they don't freeze well, or you don't want to freeze them, you can just cook them! 
Cooking will stop the spoilage, and now it'll last in the fridge for at least another week
, ready to be incorporated into your next meal when you're ready. With vegetables, you can simply steam, blanch, or saute them with a little salt. Cool them down quickly and pack it away. All ready-to-eat foods should last in the fridge for at least a week (given that your fridge is at the proper temperature). Steamed veggies can be tossed into a stir-fry, added to soups or stews, or simply mixed with a dressing such as this awesome Japanese deep roasted sesame dressing that is good on literally every possible vegetable. And if for some reason the week is over and it's still there? You can still freeze the cooked veggies, and they'll still be good for adding into soups or anything where a firm texture isn't important.
How to Use the Basil Sauce
There are 2 main ways to use this sauce: as a pour-over, or as a stir-fry sauce. The flavour works well in many dishes, but here are some things I have tried and love:
Pour-over sauce for fish (mackerel and halibut)
Pour-over sauce for fried tofu
Stir-fry sauce for chicken and veggies
You can also get creative. I think the sauce would make a great gravy for mashed potatoes! What else do you think you could try?
Frequently Asked Questions
What kind of basil can I use with this recipe?
This recipe will work with any kind of basil. I used Thai basil, but Italian or holy basil will work just as well.
How can I make a vegetarian basil sauce?
You can substitute the oyster sauce with vegetarian versions of oyster sauce; see this post for more on that. You can also use vegetarian fish sauce or substitute equal amount of soy sauce, Golden Mountain Sauce, or Maggi Seasoning.
How long will the sauce last in the fridge?
The sauce will last at least one week in the fridge.
Can the sauce be frozen?
In theory, yes, but the basil will not look as good and the basil flavour will not be as strong. If you want to freeze, I recommend leaving out the bell pepper and adding them in when you cook so that it will remain crisp, as vegetables turn soft after freezing.
INGREDIENTS
2

 

Tbsp

 

oyster sauce

1

 

Tbsp

 

soy sauce

2

 

tsp

 

fish sauce

2

 

tsp

 

granulated sugar

2

 

Tbsp

 

neutral oil

½

 

an onion 

, 

julienned

6

 

cloves

 

garlic

, 

chopped

1-2

 

Thai chilies

, 

chopped, optional

1

 

cup

 

chicken, pork, or vegetable stock

, 

unsalted

ground white or black pepper

, 

to taste

½ 

tsp

 

black or dark soy sauce

, 

optional

½ 

cup

 

julienned red bell pepper

1 ½ 

cup

 

basil leaves of any kind
NOTES
To make this vegetarian, use vegetarian oyster sauce and substitute more soy sauce for the fish sauce.
The amount given is a suggestion, but this recipe is designed to use up whatever you have. If you use less, it'll be a milder basil flavour. If you have more, you can pack it all in, or scale up the recipe accordingly.
INSTRUCTIONS
Combine the oyster sauce, soy sauce, fish sauce and sugar together in a bowl.

2 Tbsp oyster sauce,

1 Tbsp soy sauce,

2 tsp fish sauce,

2 tsp granulated sugar

In a wok or a skillet, heat the oil over medium heat. Add the onions and saute until soft and translucent, about 5 minutes. To help the onions cook faster you can add a splash of water and close the lid to allow it to steam for a minute. Then uncover and cook until all the water has evaporated.

2 Tbsp neutral oil,

½ an onion

Once the onions are soft and translucent, add the garlic and Thai chilies and stir until the garlic starts to brown.

6 cloves garlic,

1-2 Thai chilies

Add about ¾ cup (180 ml) of the stock, the sauce mixture, and ground black or white pepper then stir to mix. If you want to darken the colour, add a dash of black/dark soy sauce.

1 cup chicken, pork, or vegetable stock,

ground white or black pepper,

½ tsp black or dark soy sauce

Add the bell pepper and cook for about a minute, then turn off the heat and stir in the basil just until wilted. Taste the sauce, and if it is too salty, add the remaining stock or water to dilute; however, it should taste slightly too salty at this point because you will be adding protein to it.

½ cup julienned red bell pepper,

1 ½ cup basil leaves of any kind

Use right away, or allow to cool and keep in the fridge for at least a week. When ready to use, reheat the sauce and pour over pan seared protein such as fish, thinly sliced steak or pork chops - or use it as a stir fry sauce! Watch the video for a demo of how to use the sauce!