Pineapple Fried Rice (kao pad sapparod)
This authentic better-than-takeout Thai Pineapple Fried Rice is the perfect savory/sweet recipe to satisfy your cravings. Adding succulent shrimp to this colorful concoction provides a boost of protein and tons of flavor. Serve it in a pineapple bowl for a fun presentation!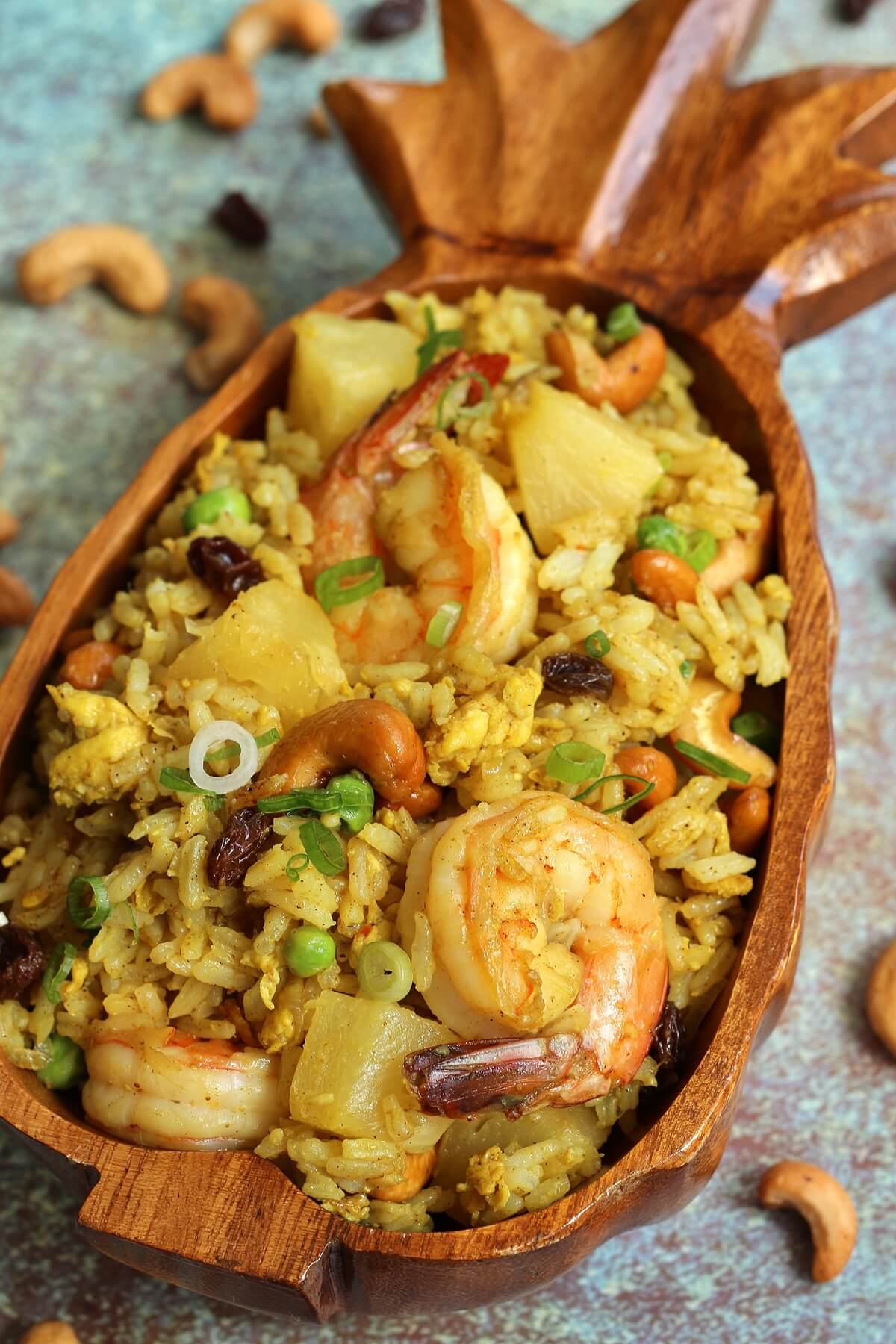 (This recipe was originally published in March 2016, but was updated with new photos and content in 2020).
Of all the fried rice dishes I've ever eaten in my life, I'd say that Thai pineapple fried rice is probably my overall favorite. The charm isn't simply the savory and sweet combination, but also the use of fragrant curry powder. This isn't your standard soy-laden fried rice. The flavoring mixture combines chicken broth, fish sauce, curry powder, and sugar. That combination is what really sets this fried rice apart from others. You blend the plethora of spices in the curry powder with the funkiness of the fish sauce. It's basically magic. Add juicy, sweet pineapple chunks and plump raisins, in addition to bright green peas, and crunchy, nutty cashews. This is an unusual marriage of flavors that simply works.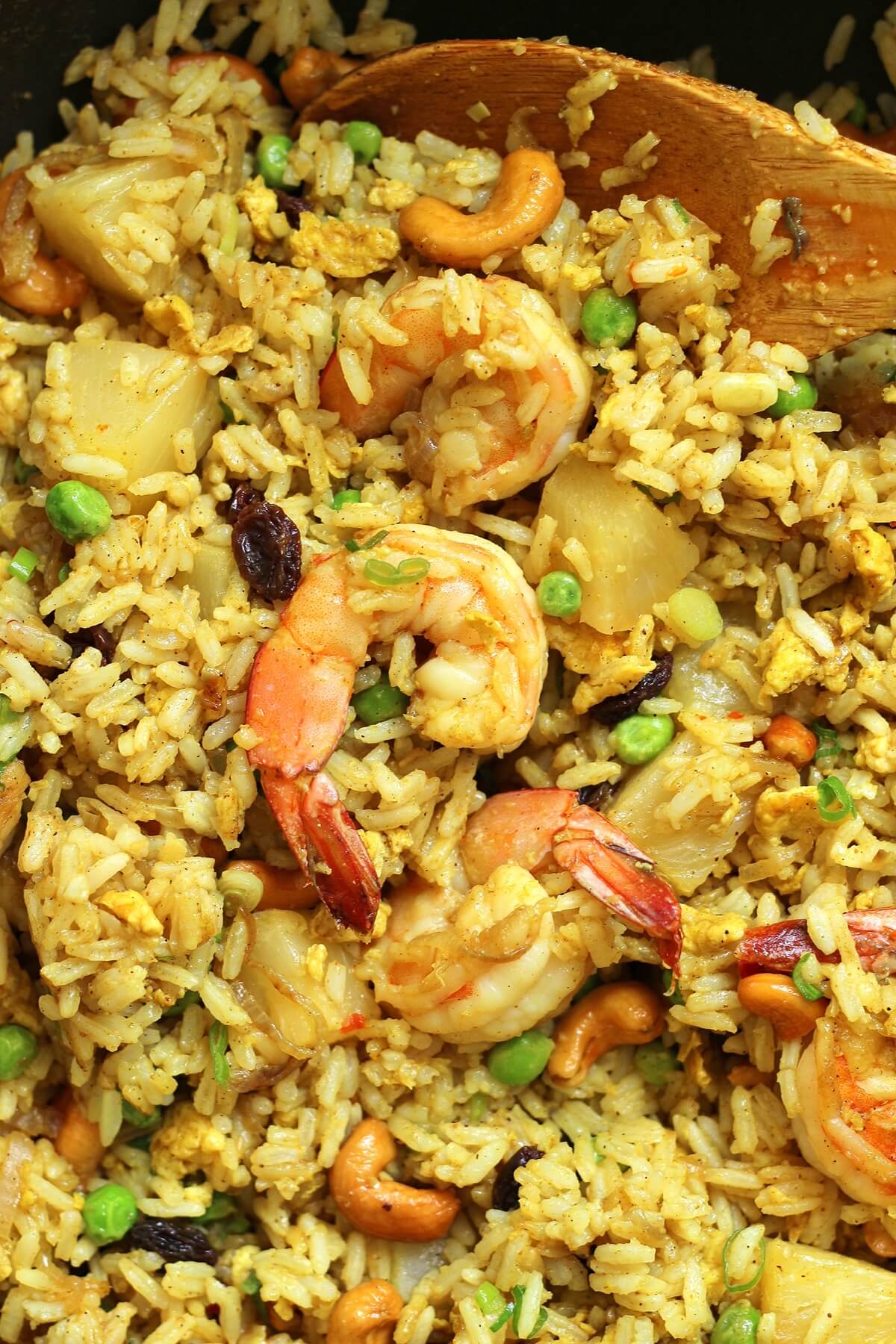 INGREDIENT NOTES
Dry, 
day old rice
 makes the best fried rice. After cooking your rice, spread it out on a baking sheet or plastic cafeteria trays. This will help the rice cool and dry out. Then store it in an airtight container until you're ready to use it.
Jasmine rice
 is an ideal option for fried rice. I have used both brown and white
 jasmine rice
 varieties for fried rice, and both work great! The brown rice will generally be higher in fiber than the white. But with all the flavor added in this recipe, you won't be able to tell the difference once you dig in. You can absolutely use fresh 
pineapple
 for this fried rice. I often use canned pineapple chunks just to simplify my life. I always make sure they are packed in pineapple juice, and not in any kind of syrup. You could also use thawed frozen pineapple chunks. For the 
shrimp
, it's up to you if you'd like to leave the shell on the tail or peel the entire shrimp for ease of eating. I recommend at least peeling most of the shrimp so you can easily devein it.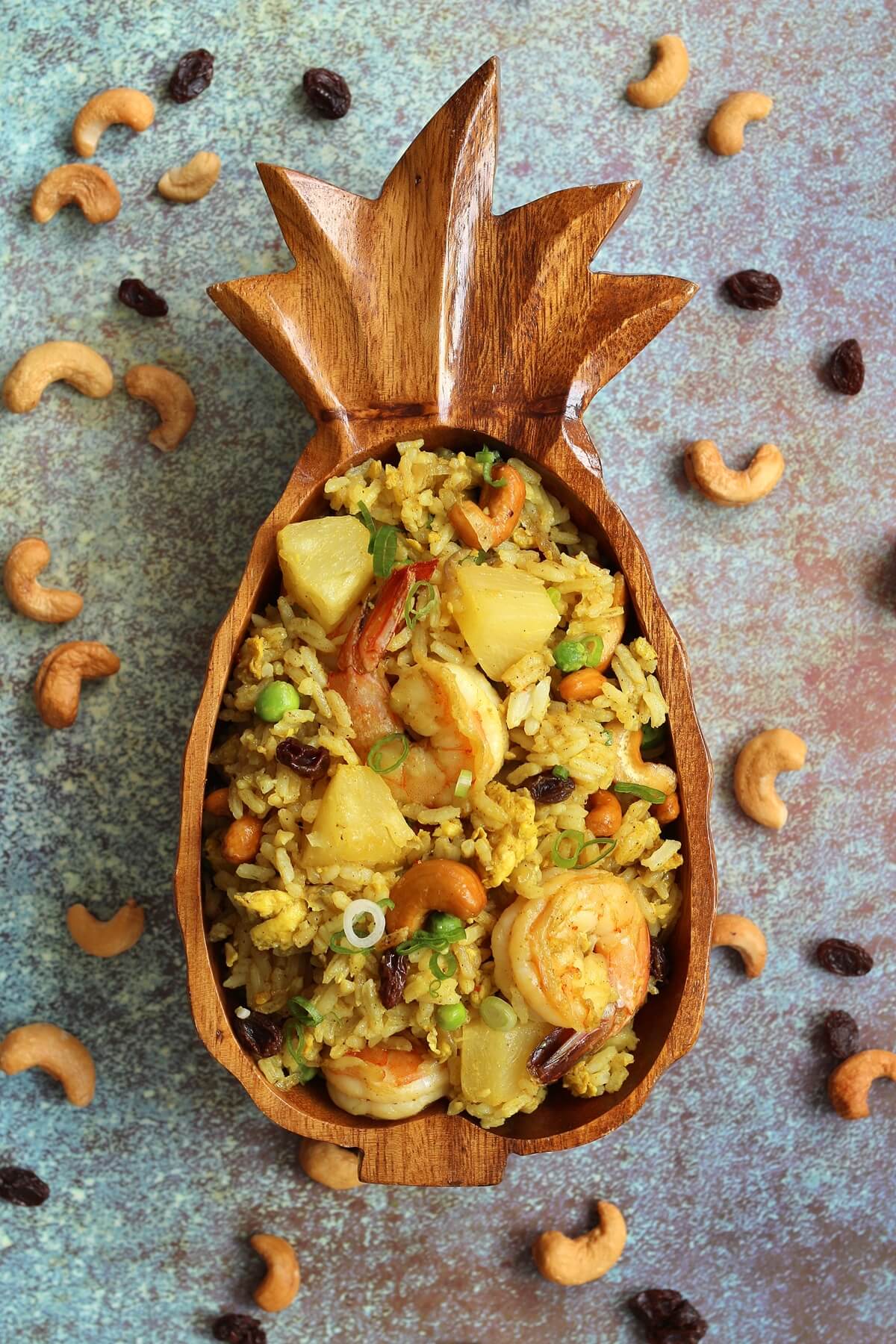 HOW TO MAKE IT
This shrimp pineapple fried rice is a quick-cooking recipe! It will benefit you to prep your ingredients in advance, and set them out in small bowls or ramekins if possible. I even line up the bowls in the order I need to use them next to the stove. This will make it super fast and easy to put everything together when you're ready.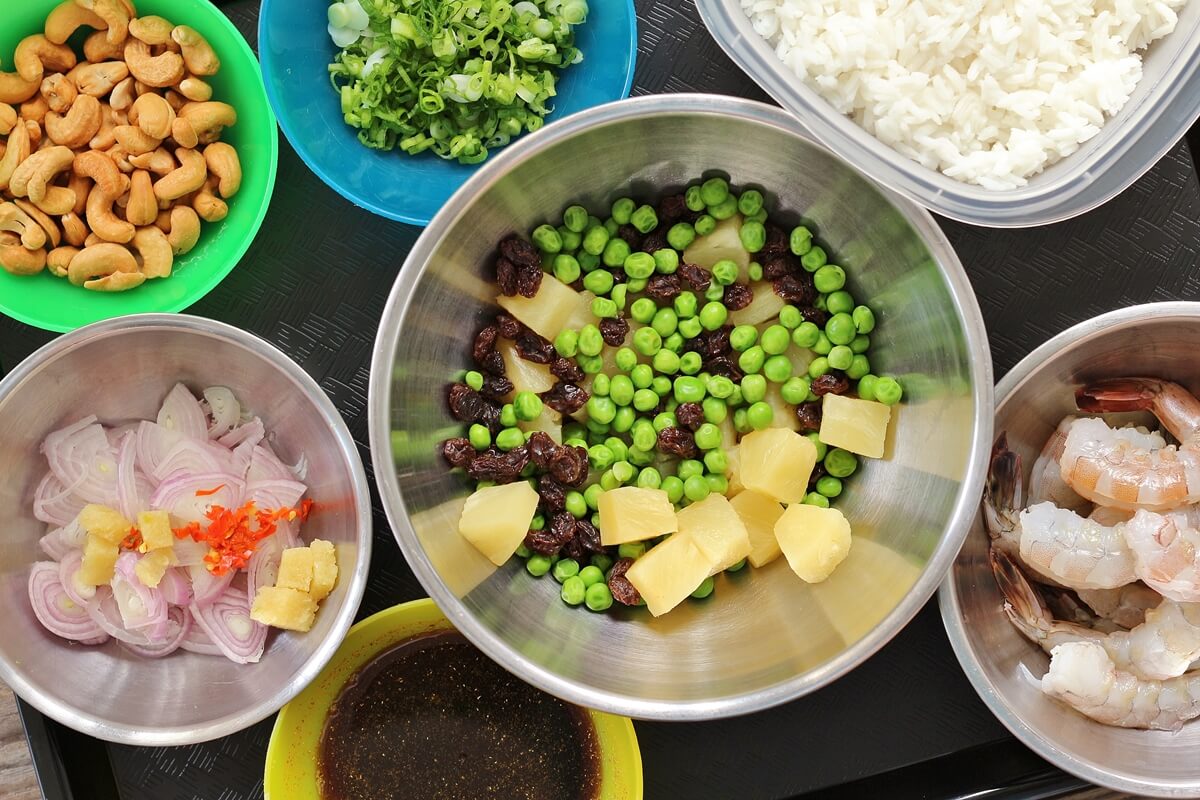 First, add oil to a wok or nonstick skillet and heat over medium-high heat. Add sliced shallots, minced garlic and chile (PHOTO 1). Cook for 1 minute, until fragrant, and then add the shrimp (PHOTO 2). After tossing the shrimp a few times so they are partially cooked through (they will continue to cook in the following steps), push them to the side and add 2 beaten eggs (PHOTO 3). Cook them off to the side like you would scrambled eggs (PHOTO 4). When the eggs are cooked, mix them into the shrimp and shallot mixture.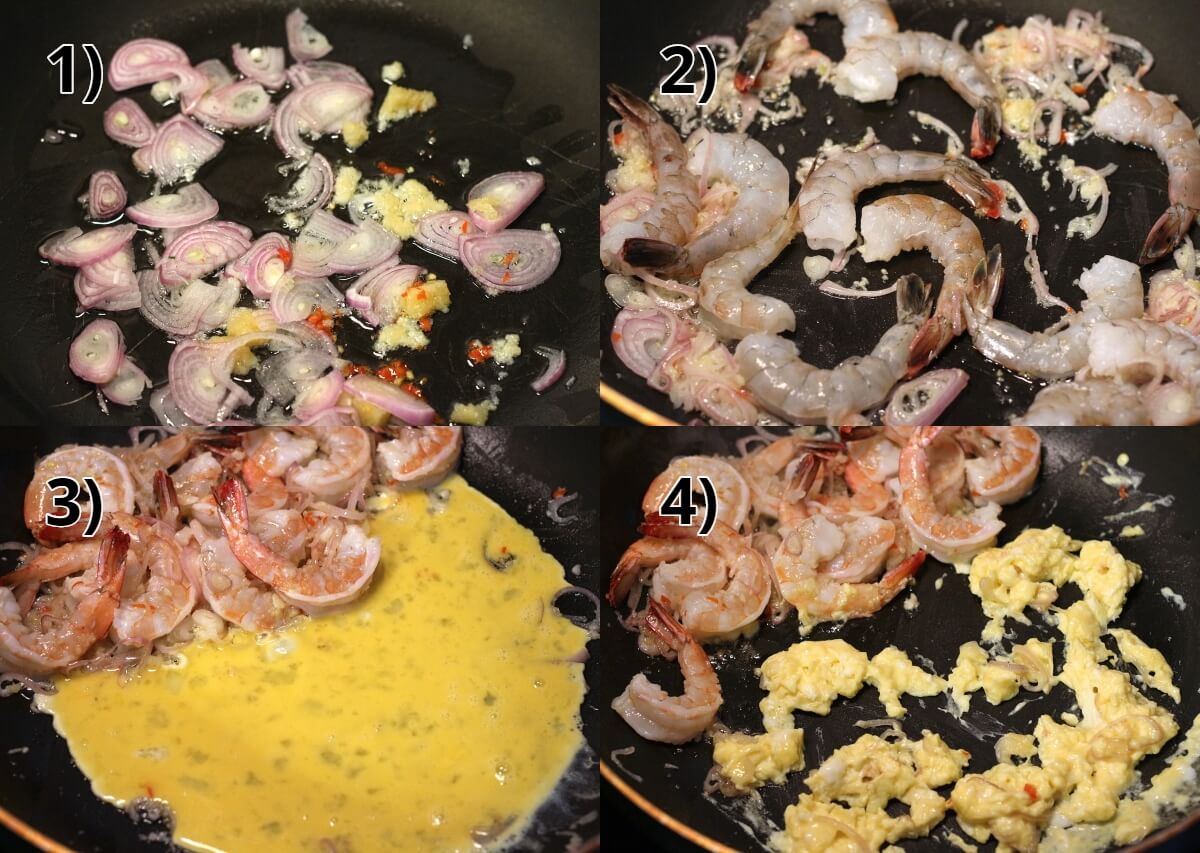 Next add your seasoning sauce, a combination of chicken broth, fish sauce, curry powder, and sugar (PHOTO 5). Add cashews and cook for about 30 seconds (PHOTO 6). Add the leftover rice, breaking it up with the side of a wooden spoon as needed (PHOTO 7). Stir-fry the mixture until all the rice is a uniform color from the sauce (PHOTO 8). Use a scoop and lift method rather than simply stirring. Add pineapple chunks, peas, and raisins (PHOTO 9). Toss and cook for another 1 to 2 minutes, and then finish by tossing in some sliced scallions (PHOTO 10). Serve on a platter (or in a pineapple) topped with more scallions as a garnish.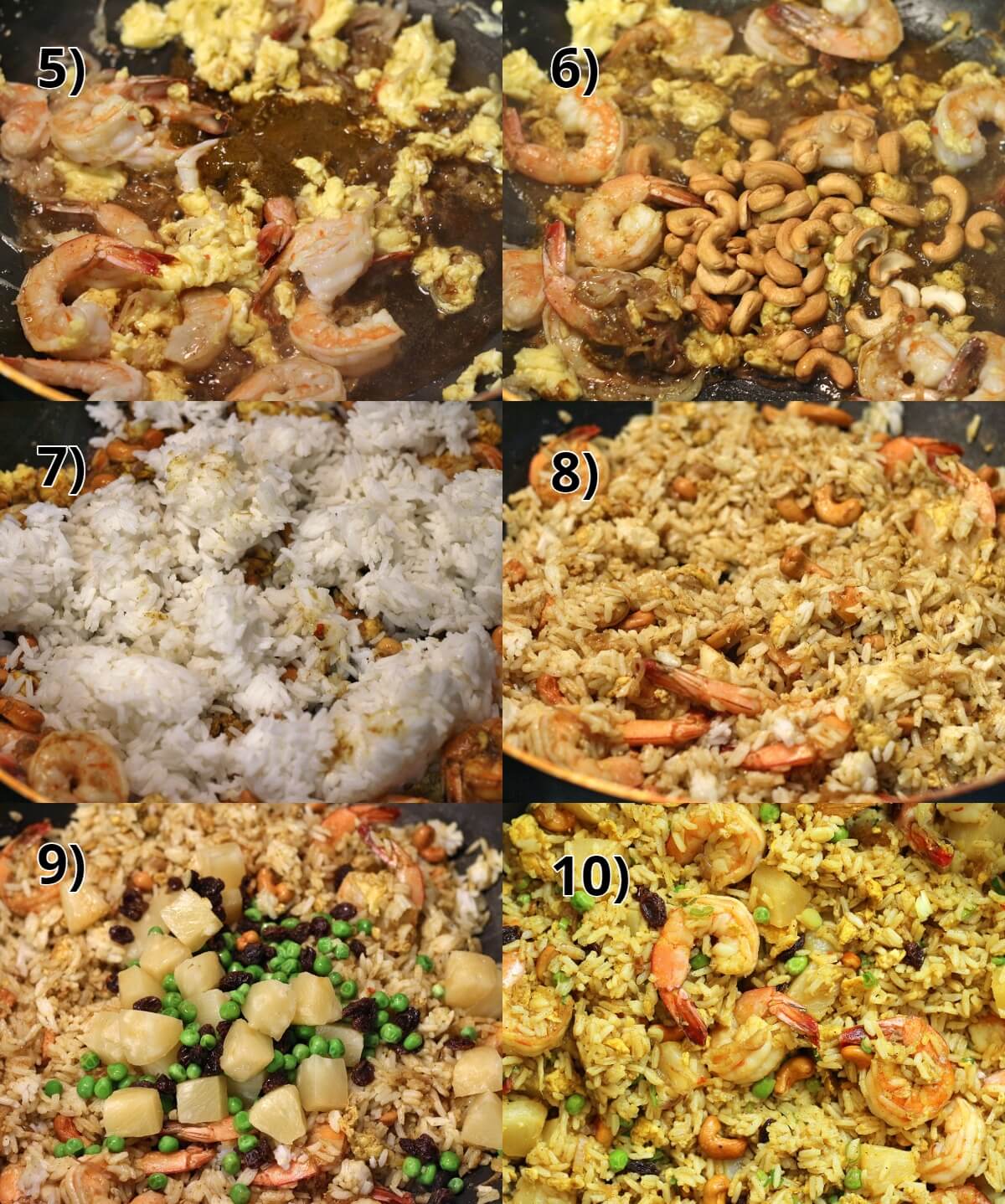 I'm proud to say the finished product tastes just like the shrimp pineapple fried rice I've gotten at Thai restaurants! There is so much flavor from the curry-infused sauce, tart bites of pineapple and raisins, crunchy cashews, and succulent sweet shrimp, that the rice just becomes a canvas for all the other ingredients to shine. Making your own takeout is totally worth it when you can control the quality of all your ingredients, and even tweak recipes to make them to your preference.
EXPERT TIPS
To yield 4 cups of cooked rice, plan on cooking 1 cup of dry jasmine rice (brown or white). If you use another type of rice (not jasmine) you may have a slightly different yield, so make sure you review the package instructions. If using fresh pineapple for this shrimp pineapple fried rice, I recommend reserving the pineapple skin as an entire half, and then serve your rice inside the hollowed out pineapple! You can make authentic Thai pineapple fried rice with a variety of proteins. Shrimp, chicken, and tofu are common inclusions. This recipe uses shrimp, but you can easily swap that out for thinly sliced chicken breast or cubed tofu if you prefer. You can even combine 2 or 3 in a single recipe if you would like. If you want to include multiple proteins, I would cook the chicken first, push it to the side, and then add the shrimp and/or tofu before proceeding with the eggs as directed. If you want to make this recipe vegetarian, in addition to omitting the shrimp (and possibly the egg depending on the type of vegetarian) and replacing the chicken broth with vegetable broth or water, you'll also need to replace the fish sauce with a vegetarian substitute. You can try a vegan fish sauce, coconut aminos, or a combination of soy sauce and vinegar, although the flavor will be slightly different in each case.
8

 Shrimp (leave 4 whole, and cut the rest into small pieces)

1

 egg

250 grams

 of cooked rice, about 

1.5 cups

¼ cup

 small diced onions

1 Tbsp

 Thai soy sauce

1 tsp

 fish sauce

1 tsp

 sugar

⅛ tsp

 salt

1 tsp

 curry powder

¼ tsp

 White pepper

1 tsp

 prepared shrimp tomalley, a.k.a. shrimp paste (optional)

½ cup

 Pineapple, fresh if you can, cut into small pieces

2 Tbsp

 raisins (optional)

⅓ cup

 roasted or fried cashews, unsalted

2

 green onions, chopped

½ cup

 tomatoes, seeds removed, cut into half inch cubes
Cucumber slices for serving
---
Instructions
In a wok or a large frying pan, heat 2 Tbsp of vegetable oil until hot. Sear the whole shrimp until done; remove and set aside. In the same pan, add the small pieces of shrimp and cook until done; remove and set aside.
Add more oil to the wok if needed, then add the egg and scramble slightly. When the egg is half way cooked, add the rice and toss to mix. Add the diced onions and toss to mix. Add curry powder, white pepper, sugar, salt, soy sauce, fish sauce, and shrimp paste (if using); toss until the rice grains are separated and the seasoning is well mixed. Add the pineapple, raisins (if using), cashews, and small pieces of shrimp; toss until the pineapples start to darken slightly and the rice is dry. Turn off the heat and toss in tomatoes and green onions.
Serve on a plate or in a pineapple bowl with some cucumber slices. Top with the whole shrimp and extra green onions.