Crispy Meatballs with Glass Noodles & Sweet Chili Sauce
A favourite of Thai children everywhere
This dish in Thai is called "moo tod woonsen" which means "glass noodles fried pork". It's a popular dish for kids in Thailand, and is often served in school cafeterias because it's a satisfying item that's not spicy. (And also...what kid doesn't love meatballs?!) A plain version without glass noodles also exists, but I prefer these because of the added texture and crispiness - and also because these are more cost effective!
Why add noodles to meatballs?
If adding noodles to meatballs is an unfamiliar concept to you, let me convince you as to why it's a great idea. Glass noodles do a few things in meatballs:
1) They lighten the meat mixture. 
So you can actually snack on a bunch of these without feeling instantly full.
2) When fried, the noodles on the exterior become crispy.
 No need to mess with panko or any other breading.
3) They add a fun texture
, especially when you first bite the meatballs! You can feel them pull and tear, no wonder kids love them!
4) It's a great way to reduce cost!
 The noodles help extend the meat without introducing any new flavours.
5) They reduce the number of calories per meatball
...not that this would make them "low calorie" by any stretch of the imagination!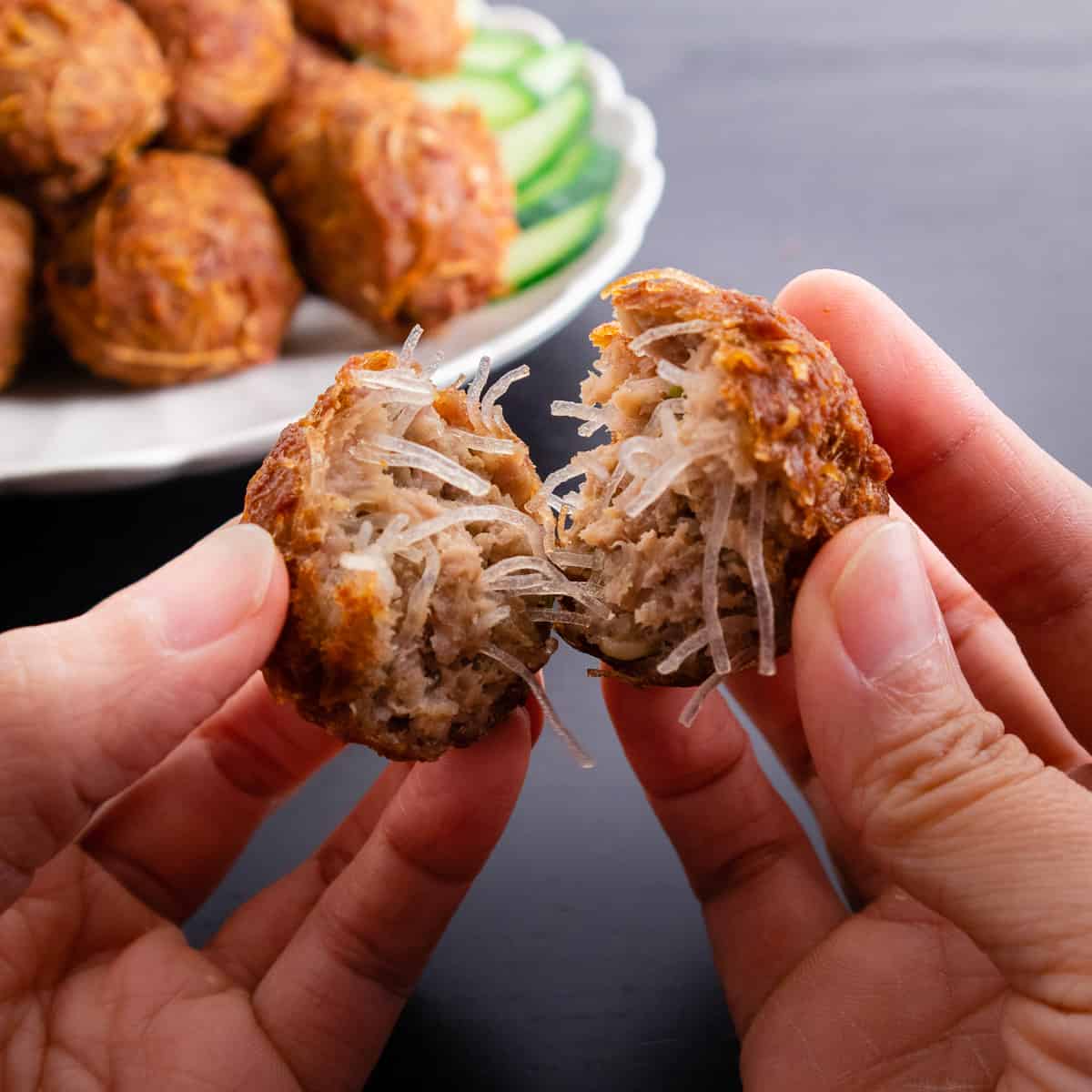 But why glass noodles?
If you're thinking about substituting other noodles, hold up. There's a reason - many reasons actually - we only use glass noodles for mixing with meat instead of rice or wheat/egg noodles.
1. GLASS NOODLES HAVE A COMPLETELY NEUTRAL FLAVOUR.
So they will not impart any flavour of their ow,n and are only there to serve the purposes above. If it weren't for the texture, you wouldn't even know they were there.
2. THEY COOK PERFECTLY INSIDE THE MEATBALLS.
This is probably the most important reason: glass noodles can simply be added raw (but rehydrated), and they will cook perfectly as the meatballs cook. They also do not overcook easily, making them essentially foolproof. Adding rice or wheat noodles would not be nearly this straightforward.
3. THEY KEEP THE "MEATY CHEW".
You might think this is similar to adding breadcrumbs to meatloaf or meatballs, but it's actually quite different. When you add breadcrumbs, they "merge" into the meat and cause the mixture to become softer and have a finer texture. Glass noodles on the other hand remain separated from the meat, and so the meat retains its satisfying meaty chew.
4. THEY ARE EXTREMELY RESILIENT.
You would have to work really hard to break glass noodles, even when rehydrated. So you can mix it in and knead as much as your heart desires, and they will still remain intact.
Ingredients You'll Need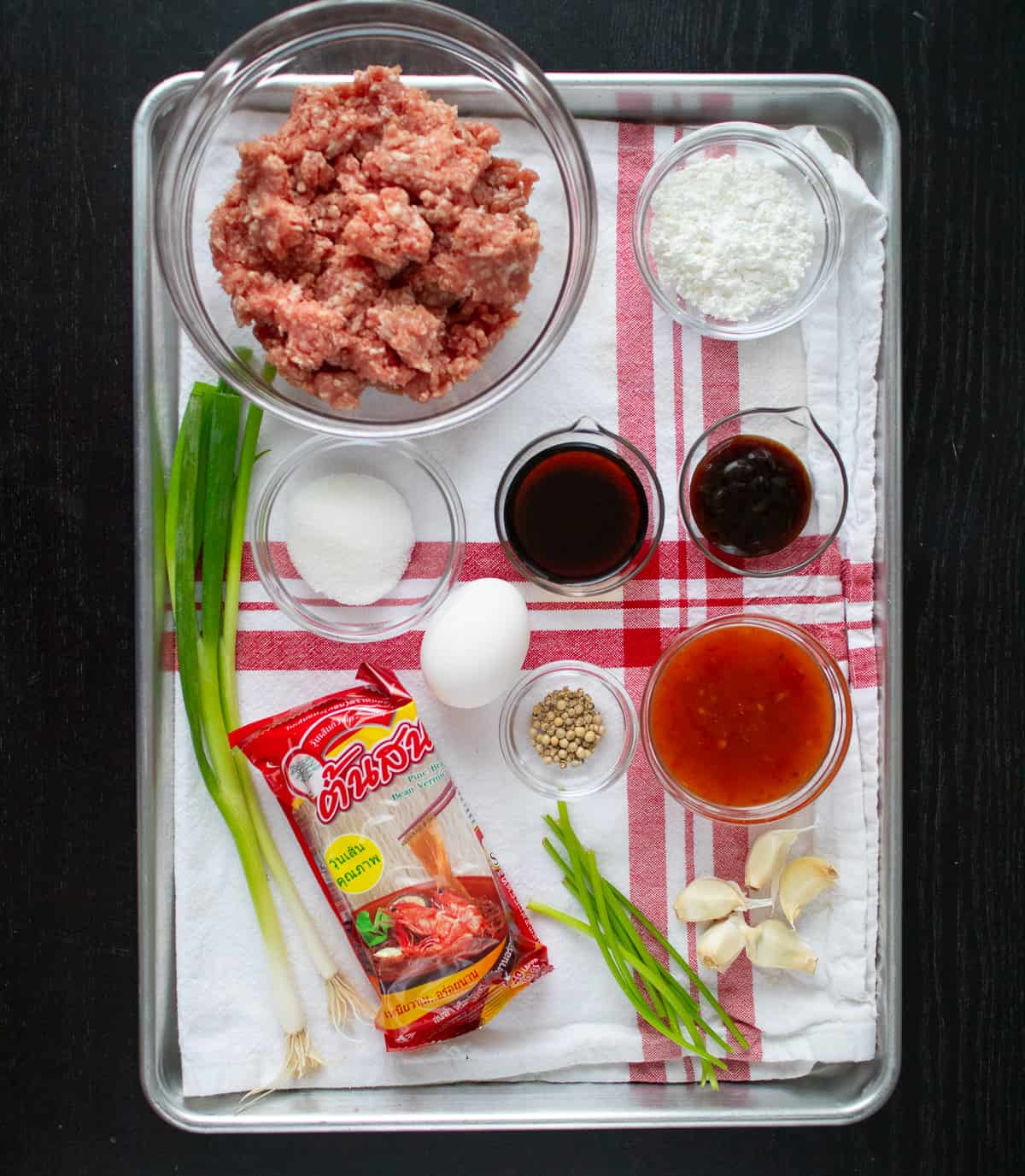 Step-By-Step: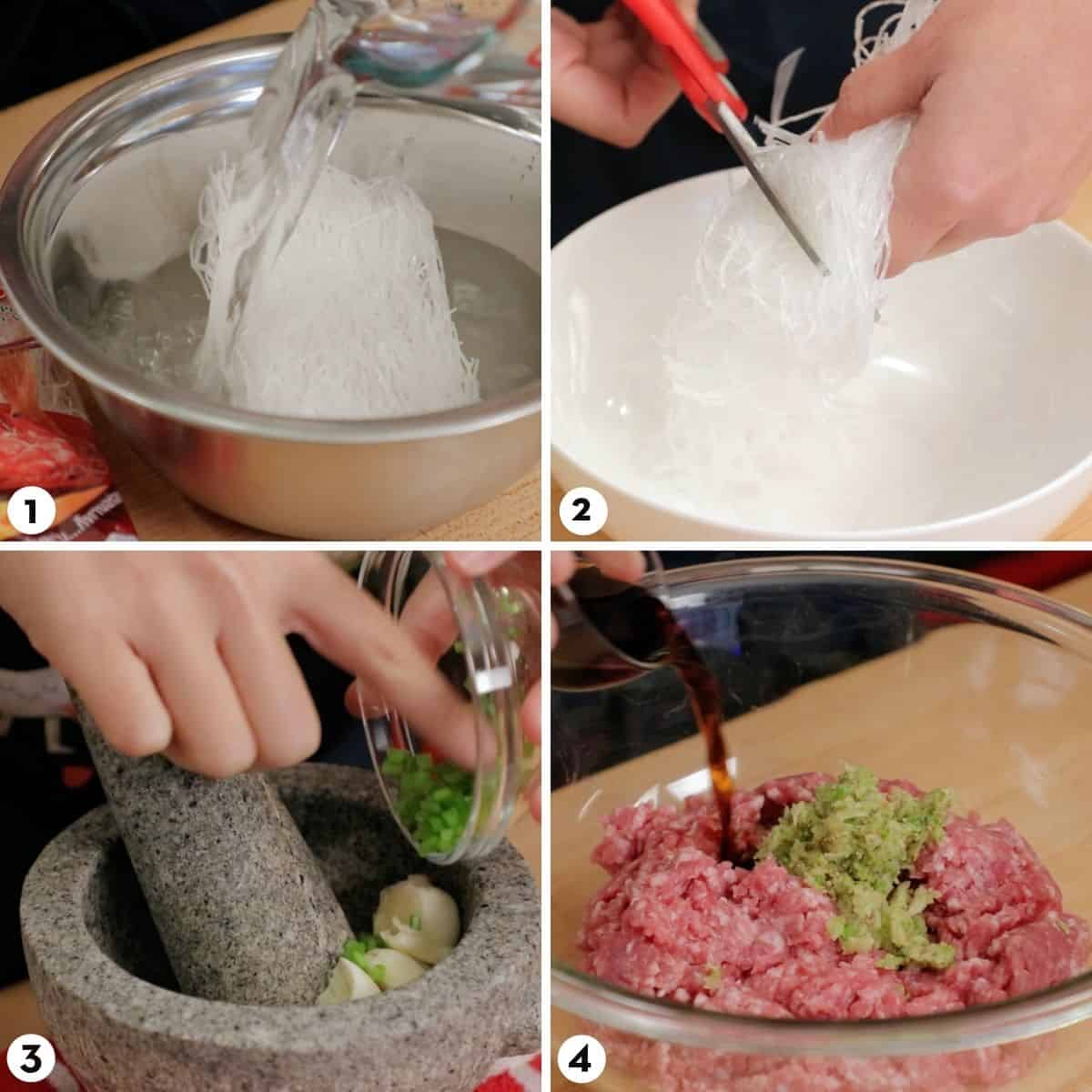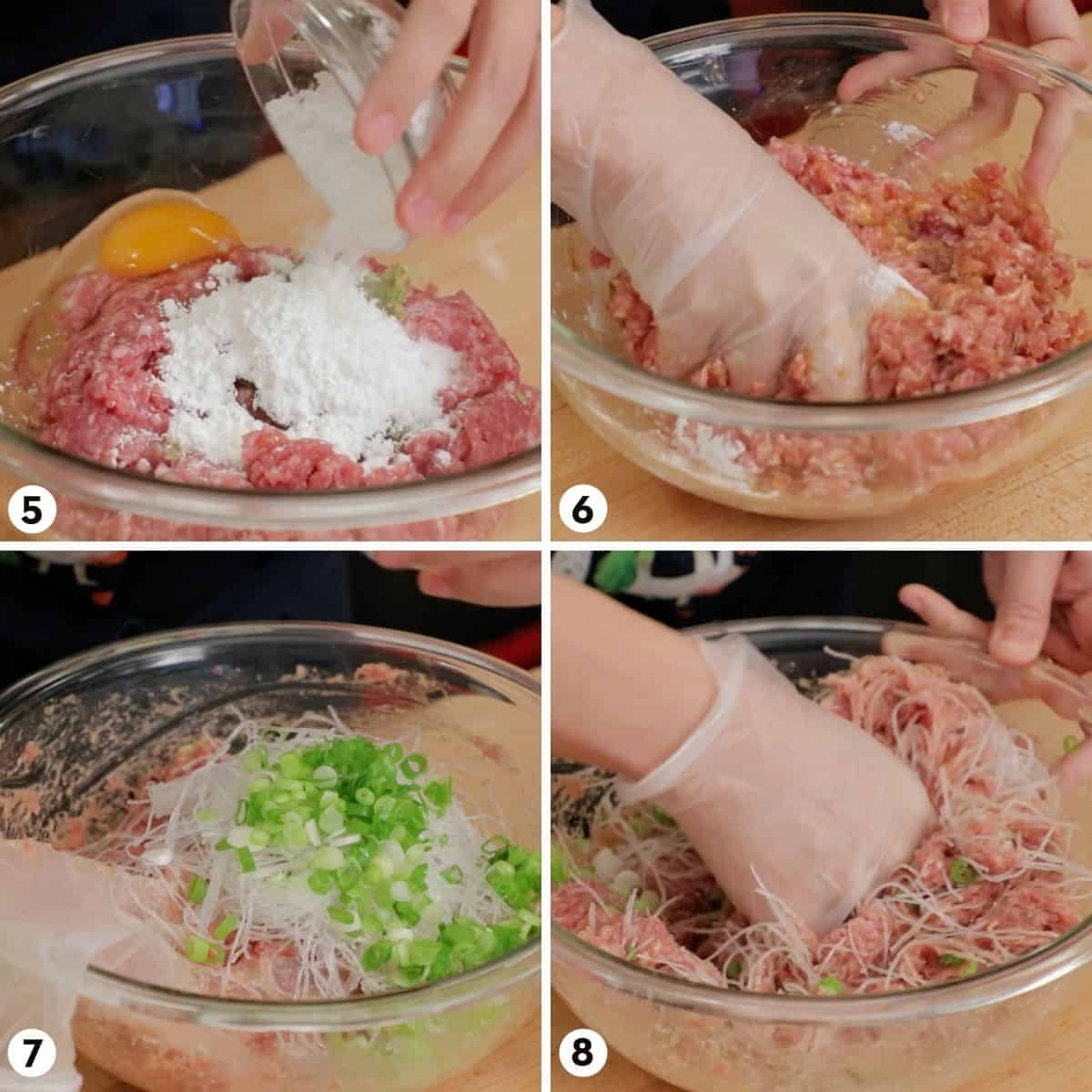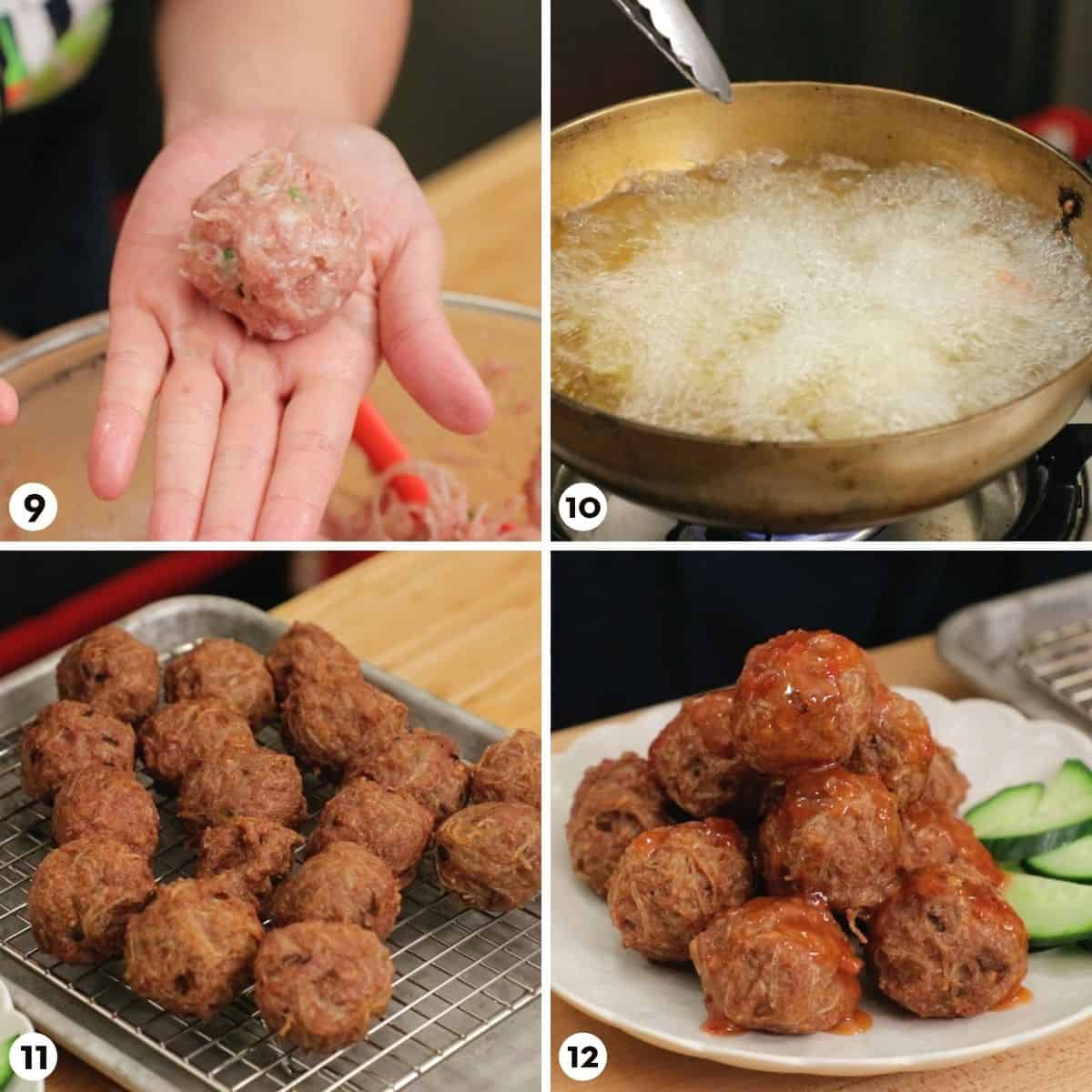 Pro Tip: Prepping Noodle Meatballs in Advance
These make great party appetizers! And there are many ways you can prep these ahead of time: - The meat mixture can be made 1 day in advance and kept in the fridge. You can also form it into balls ahead of time and keep them all on one layer so they don't get squished.
- Cook them up a few days in advance. 
Though the crispy texture is best when freshly fried, if you're short on time on serving day you can quickly reheat cooked meatballs in a 350°F (175°C) oven for about 5-8 minutes - depending on their size and how cold they were to begin with.
- For long term storage, you can freeze cooked meatballs
 for a few months and reheat them in a 350°F (175°C) oven. This will probably take 12-15 minutes, but I have not tried it myself (yet).
Frequently Asked Questions
Can these be baked, air-fried or pan fried?
You can pan fry these: make them into patties, and add enough oil to the skillet so that it comes up on the patties by at least a quarter inch. You need enough oil to get the glass noodles crispy. But for what it's worth, I find deep frying so much easier and quicker as you don't have to tend to the individual pieces and flipping them etc.
I have not tried baking, but my inclination is that the glass noodles on the exterior will not crisp up as well - and instead of being crispy, they may end up being chewy. Air-frying should work better than baking, but again the question is whether the air-frying can get the noodles on the exterior crispy enough. It's worth a try, but I would try a small amount first!
How can I make these gluten free?
Use gluten free soy sauce and oyster sauce, as those are the only gluten-containing ingredients in this dish. You can also substitute half a tablespoon of fish sauce for the oyster sauce.
Can I substitute the pork with chicken or beef?
Yes! Chicken or turkey should work well, though I would strongly advise using dark meat as it has enough fat in it to keep the meatballs juicy rather than dry. Ground beef could also work, albeit it will have a stronger flavour.
Can other noodles be used instead of glass noodles?
No. See more on this in the post above.
Can I use other starches instead of cornstarch?
Yes. Potato starch, tapioca starch, or all purpose flour will work. It is important to add SOME starch because it helps absorb the meat juices so they will not leak into the oil when fried; keeping the meat juicy and keeping your oil clean and longer-lasting. A bit of starch also helps make the meat mixture firm enough to form easily. *If using all-purpose flour use 1 ½ Tbsp to start, then add more only if the meat is too soft to form.
INGREDIENTS
1.4

 

oz

 

dry glass noodles

5

 

cloves

 

garlic

1

 

tsp

 

white peppercorns

6-8

 

cilantro stems

, 

or 3 cilantro roots, chopped

1

 

lb

 

ground pork

, 

(see note 1)

2

 

Tbsp

 

soy sauce

1

 

Tbsp

 

oyster sauce

1

 

Tbsp

 

sugar

1

 

egg

, 

large or medium (see note 2)

3

 

Tbsp

 

cornstarch

, 

(see note 3)

1-2

 

green onions

, 

chopped

Frying oil

, 

as needed

Thai sweet chili sauce 

, 

for serving

cucumber slices

, 

for serving (optional)
NOTES
Ground chicken or turkey can be substituted, but  make sure it is made from dark meat with enough fat in it, otherwise it would be too lean and dry. Ground beef can also be used.
Extra large eggs might make the meat mixture too wet, which means you might have to add a little more cornstarch to keep the mixture firm enough to form into balls.
You can substitute equal amounts of potato starch or tapioca starch. To sub all-purpose flour, use 1 ½  Tbsp to start and add more only if the pork is too soft to form into balls.
INSTRUCTIONS
Soak glass noodles in room temp water until pliable - about 7-10 minutes, though this may take longer if the brand's noodles are thicker.

Meanwhile, pound the garlic, peppercorns and cilantro stems into a fine paste in a mortar and pestle.

5 cloves garlic,

1 tsp white peppercorns,

6-8 cilantro stems

Put the ground pork in a mixing bowl and add the herb paste. Add the soy sauce, oyster sauce, sugar, egg and cornstarch. Knead with your hands for a few minutes until thoroughly mixed and the mixture becomes thicker than when it started. Once ready, the mixture will seem soft but should be able to hold its shape; if not, you can add a bit more cornstarch.

1 lb ground pork,

2 Tbsp soy sauce,

1 Tbsp oyster sauce,

1 Tbsp sugar,

1 egg,

3 Tbsp cornstarch

Drain the glass noodles and place them on a towel to absorb excess water. Use scissors to cut the glass noodles into 2-inch pieces.

Add the glass noodles and chopped green onions into the mixture and mix just until the noodles are well distributed.

Form the meatballs into roughly 1.5 inch balls; tucking in any long pieces of noodles that protrude out. If you see any green onions sitting on the surface you can push them inside so they will not burn or fall off during frying - though this is not a big deal if you don't have the patience! If you want, you can dip your hands in water and the meatballs will not stick to your hands and will be smoother, but I prefer them to stick to you a bit as they get a more interesting rough surface.

Heat about 1.5 inch of frying oil in a pot or wok to about 325°F. Add the meat balls one at a time; you can even crowd them a bit here as they will not get oil-soaked even if the temperature drops a lot. Let them fry for about 20 seconds to firm up and gently stir to make sure they're not sticking. Fry them for about 5-6 minutes, stirring occasionally, until the internal temp is 160°F (71°C) - or you can cut one open to check doneness. Remove from the oil and drain on a rack or paper towel.

Allow them to cool for about 5 minutes before serving. They're great on their own, but better with sweet chili sauce and a side of fresh cucumber.

Thai sweet chili sauce,

cucumber slices