Asian Foods : Indian Black Pepper Chicken Curry
Before chillies, Indian cuisine called upon copious helpings of native peppercorns. Discover a whole new world of spice with this classic black pepper chicken curry…
I first ate this in a small coastal town of Varkala in Kerala, India. Kerala is famed for its Malabar Pepper, considered the finest India has to offer. I was lucky enough to sample some fresh, from the vine on a trip through the amazing Keralan backwaters – they were incredibly spicy and delicious! I also sampled them fresh, added to curries as a whole vine which was spectacularly spicy! If you're lucky enough to ever find fresh peppercorns, add them during the last 10 mins of cooking to infuse their heat.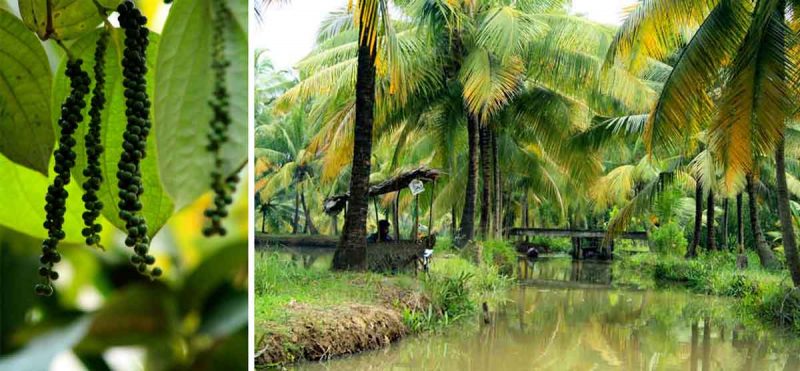 Black pepper – old spice!
Before the introduction of chillies from South America in the 16th Century, peppercorns were the dominant spicing of Indian food. Chillies subsequently took a firm grip, but peppercorns still maintained a stronghold in the South. The dominance of black pepper in this dish creates a uniquely Keralan spice – a slow and lingering heat, unlike any other curry.
Stuff you'll need
This curry is a wonderful combination of flavours and textures – here are some of the main players that go into its making (there's a full recipe below)
Black peppercorns – Try and get hold of Malabar black pepper for the authentic flavour
Mustard Seeds – they'll give an added kick of heat
Spices – a combination of typical Indian spices, cumin, coriander, turmeric, cinnamon, cardamom to name a few.
Chicken thighs – I always make my Indian curries using thigh or leg meat. It makes for a juicer chicken as breast meat will dry out too much. Buy the skinless & boneless thighs for convenience.
Coconut – Using the oil and milk of a coconut gives the authentic flavour of South India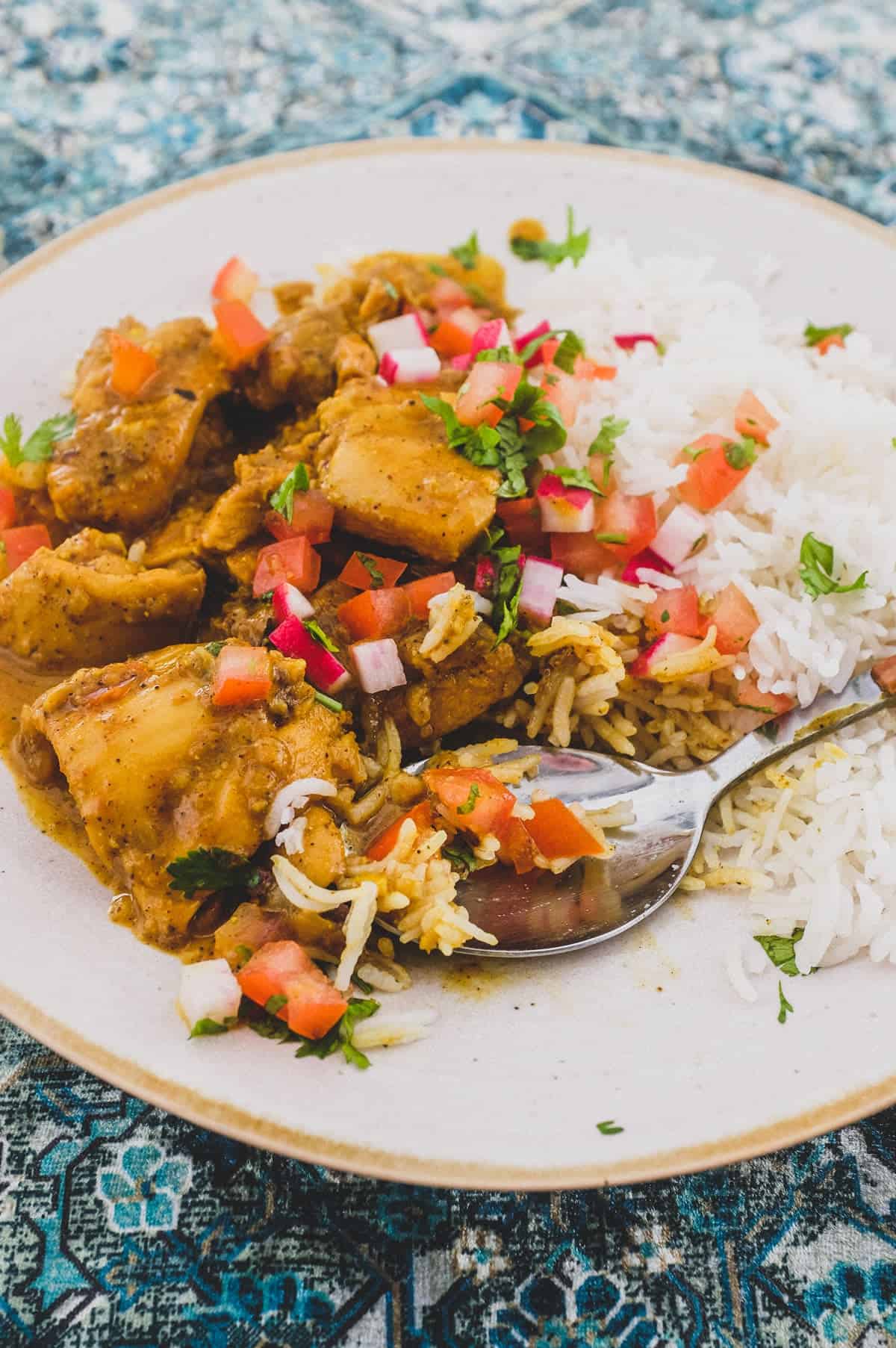 Ingredients
2

 

tbsp

 

black peppercorns

1

 

tsp

 

mustard seeds

2

 

tbsp

 

coconut oil

1

 

tsp

 

cumin seeds

1

 

cinnamon stick

3

 

cardamom pods

15

 

curry leaves

 

(fresh)

2

 

chillies

 

(dried)

1

 

onion

 

(finely diced)

1

 

tbsp

 

garlic cloves

 

(finely chopped)

1

 

tsp

 

ginger

 

(fresh) (finely chopped)

1

 

tsp

 

turmeric powder

1

 

tsp

 

cumin powder

1

 

tsp

 

coriander powder

1

 

tsp

 

Kashmiri chilli powder

½

 

tsp

 

garam masala

1

 

tomato

 

(diced)

1

 

tsp

 

salt

2

 

tsp

 

sugar

2.2

 

lb

 

chicken thighs

 

(cut into large chunks)

1

 

cup

 

coconut milk

1

 

bunch

 

cilantro

 

(chopped)

1

 

lemon

 

(Juice of)
Instructions
In a pestle & mortar or using a spice grinder, grind together the peppercorns and mustard seeds until coarsely ground. Set aside.

Heat the coconut oil in a large pan over a medium heat until hot. Add the cumin seeds, cinnamon, cardamom, curry leaves and dried chillies. Let them splutter and sizzle for 30 seconds before adding the onion, garlic and ginger. Stir well for 2-3 minutes.

Splash in about 1/4 cup water and sizzle for a further 2-3 minutes until the water has evaporated and the onions are frying again. Repeat this process of adding water and reducing for about 10 minutes.

Add the ground turmeric, cumin, coriander, chilli powder, garam masala and the ground pepper/mustard and stir well. Add 1/2 cup water and stir again. Like before, let this mixture reduce until almost dry then add 1/4 cup water. Stir constantly to avoid sticking.

Add the tomato, salt and sugar and another 1/4 cup water and reduce again. Repeat this process of water and reduction, like before, for about 20 minutes until the paste is thick and smooth and the oil begins to separate.

Now, Add the chicken and turn up the heat. Stir fry for 10 minutes before pouring in the coconut milk and about 1 cup water. Bring to a boil, then reduce the heat to low and simmer gently, uncovered for 30 minutes until the chicken is cooked through and the sauce thick and creamy.

Squeeze over some lemon juice (about 1/2 lemon or more) to add a last minute citrus hit.