3-Chili Thai Basil Fried Rice
Chili #1 - Thai Chili Paste (nam prik pao)
In Thai, this dish is called 
kao pad nam prik pao
, translated simply as Thai chili paste fried rice. So 
our chili #1 is Thai chili paste
or nam prik pao
, also known as chili jam. It's the sweet and savoury umami-loaded ingredient that is used in many Thai dishes including the world famous 
tom yum goong
. Though this is an ingredient most people buy.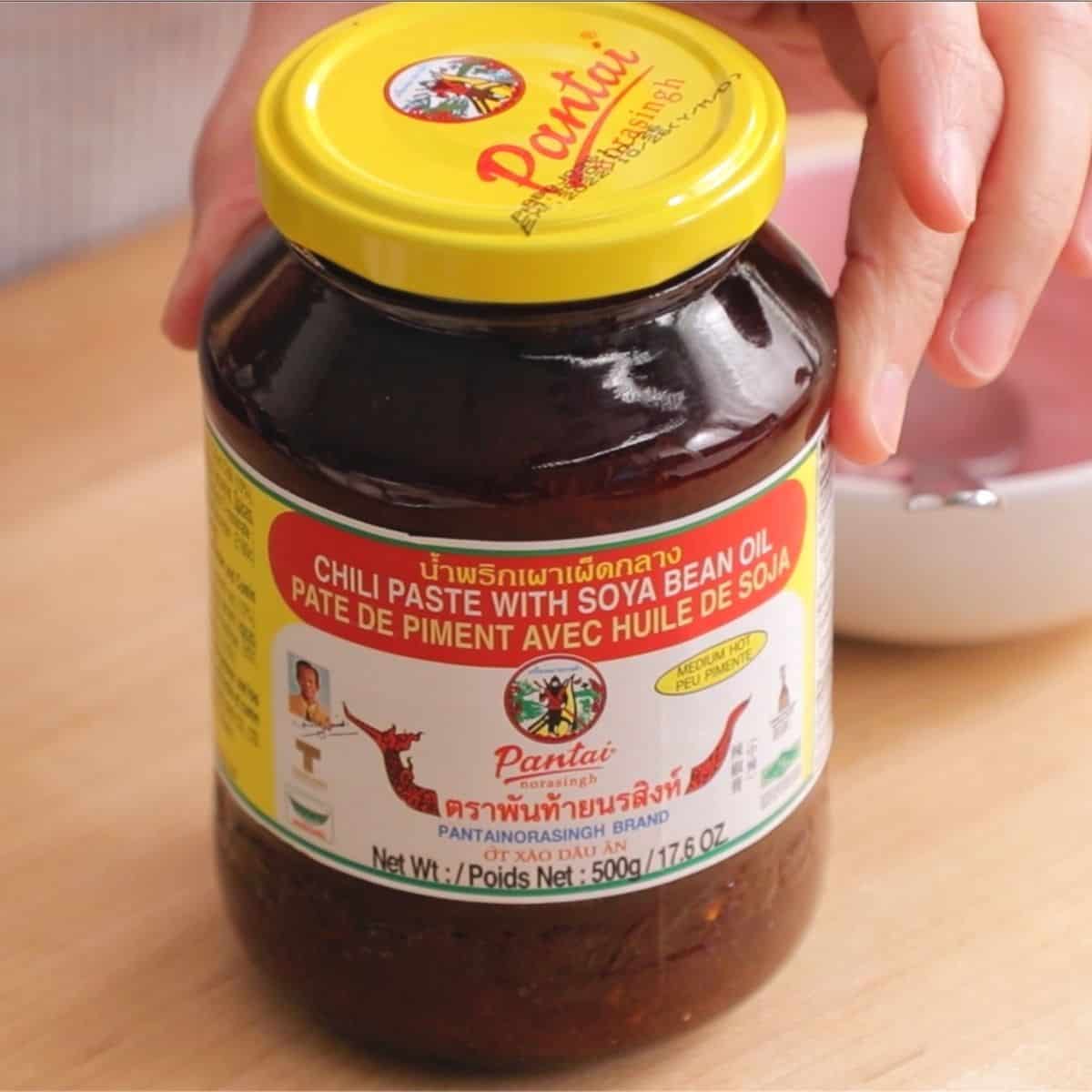 Chili #2 - Roasted Chili Flakes (prik pon)
While Thai chili paste is delicious, it's very mild, so most of the heat in this dish is going to come from
 our second chili: roasted chili flakes.
 This is where you get to customize the heat level so add as much or as little as you like. You can buy red pepper flakes, and then toast them in a dry pan over low heat, stirring constantly, until the get a little smokey. Or do it the Thai way by starting with whole dried spicy chilies, such as chile de arbol, and toasting them until charred spots form on the surface before grinding them into flakes.
Chili #3 - Fresh Chilies (prik sod)
Both chilies 1 and 2 are dried, so a little freshness is needed. 
The third chili is any kind of fresh chilies
 you like, and you can go a little milder here given that the heat is already coming from chili #2 (or go hot if you like the burn!). These will serve as refreshing pops of fruitiness (if using red chilies) or grassiness (if using green) that I think is important here.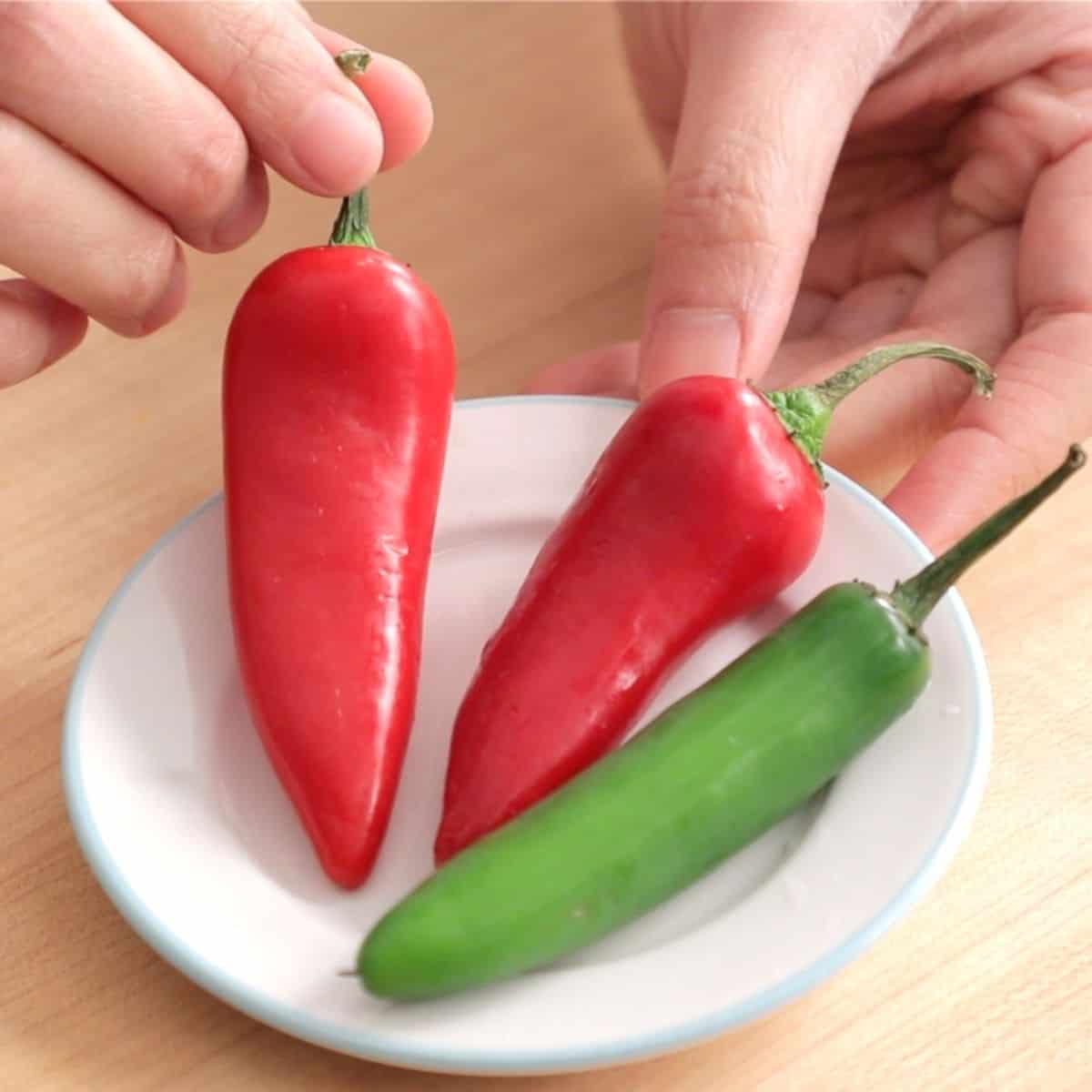 Jalapenos, fresnos, serranos are great spicy options, and the seeds and pith can be removed for less heat. If you don't want any more heat, anaheim or bell pepper will work beautifully. In Thailand we often use the mild spur chilies or 
prik chee fa 
for this purpose.
Ingredients You'll Need
Here are all the ingredients you'll need. The chicken can be substituted with any other protein you like. Tofu works beautifully in this recipe.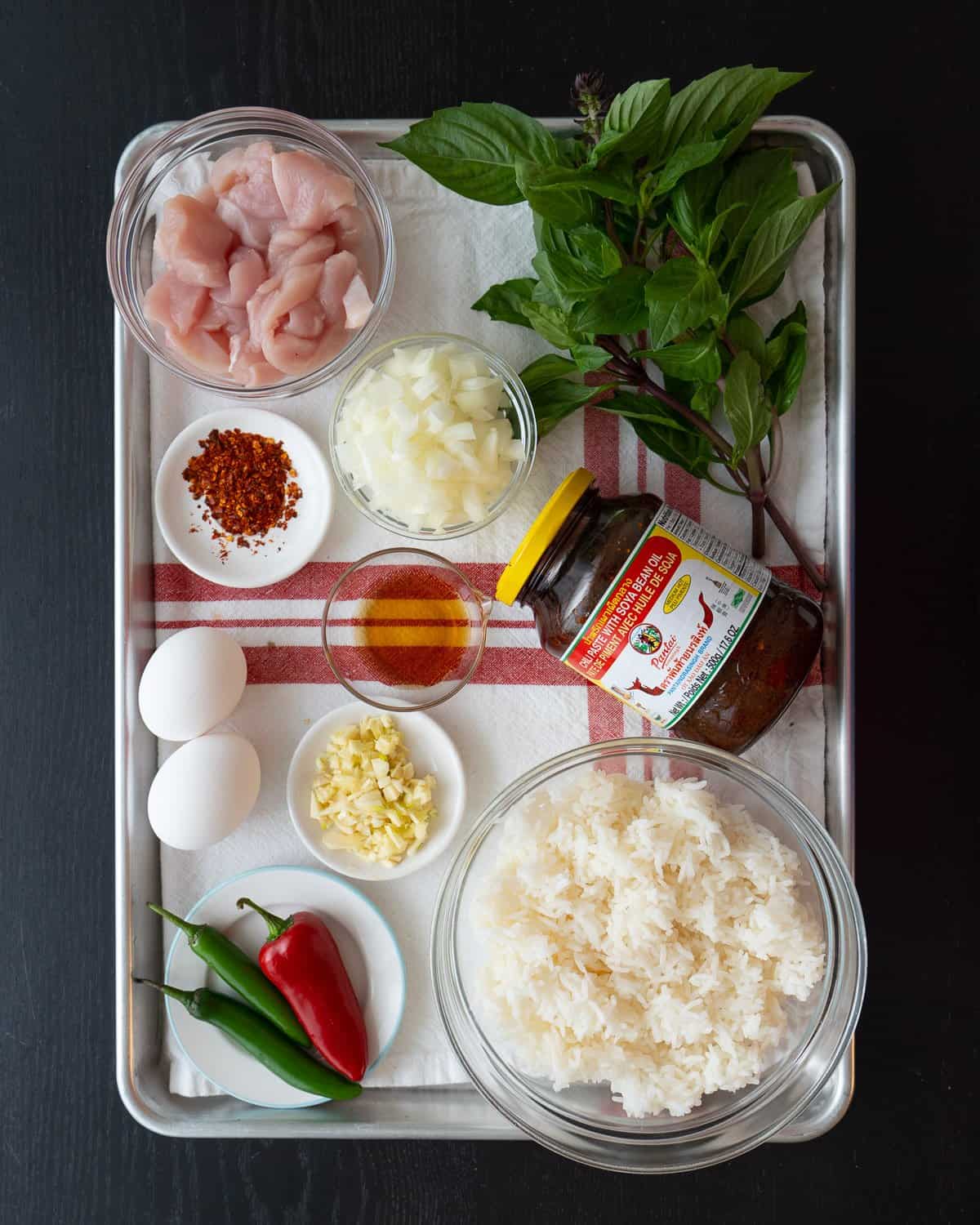 Chicken, or another protein
Thai basil
Roasted chili flakes
Diced onion
Eggs
Fish sauce
Thai chili paste
Fresh chilies
Garlic
Cooked jasmine rice
Step-By-Step:
Here's a bird's eye view of the process, but be sure to check out the 
full video tutorial 
in the recipe card below to ensure success!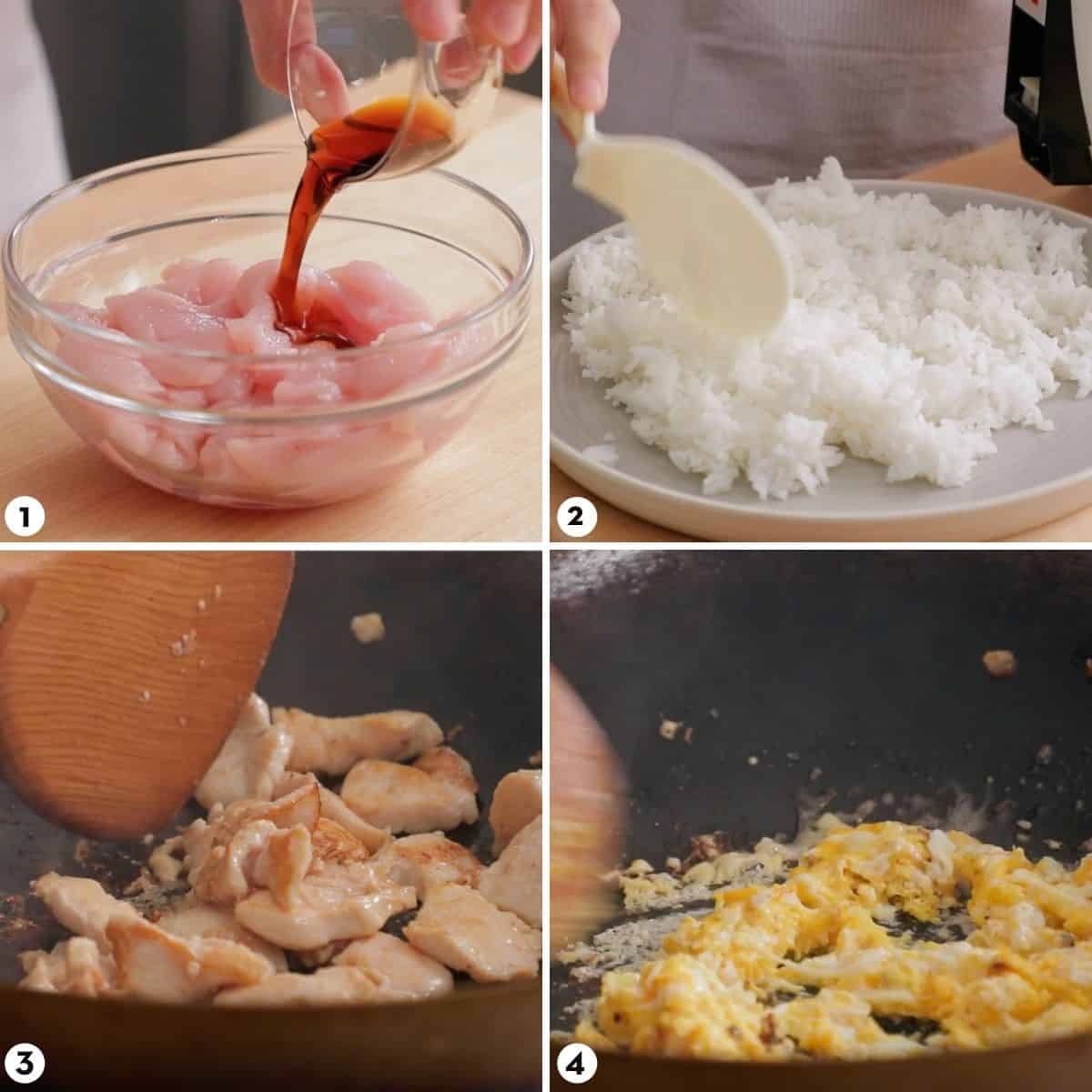 Marinate the chicken with soy sauce, sugar and water.
If the rice is hot, spread it out so that it can dry out a bit and it will separate more easily in the wok.
Sear the chicken until browned, then cook it through, and remove from the wok.
Scramble the eggs, and remove from the wok.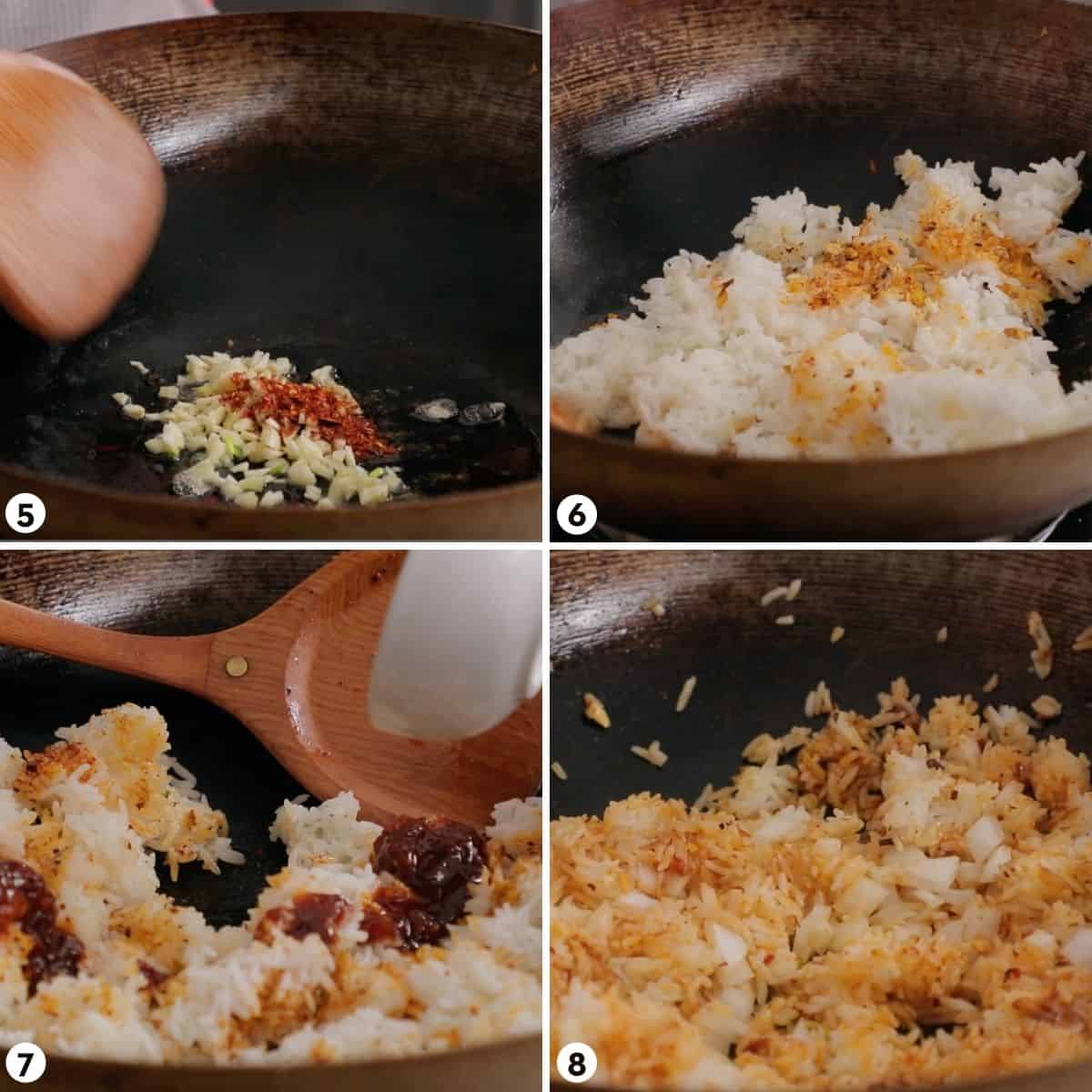 Saute garlic and roasted chili flakes in oil until the chili flakes smell a bit smokey.
Add the rice and toss briefly.
Add the chili paste and fish sauce and toss briefly.
Add onions and then toss until there are no more rice clumps.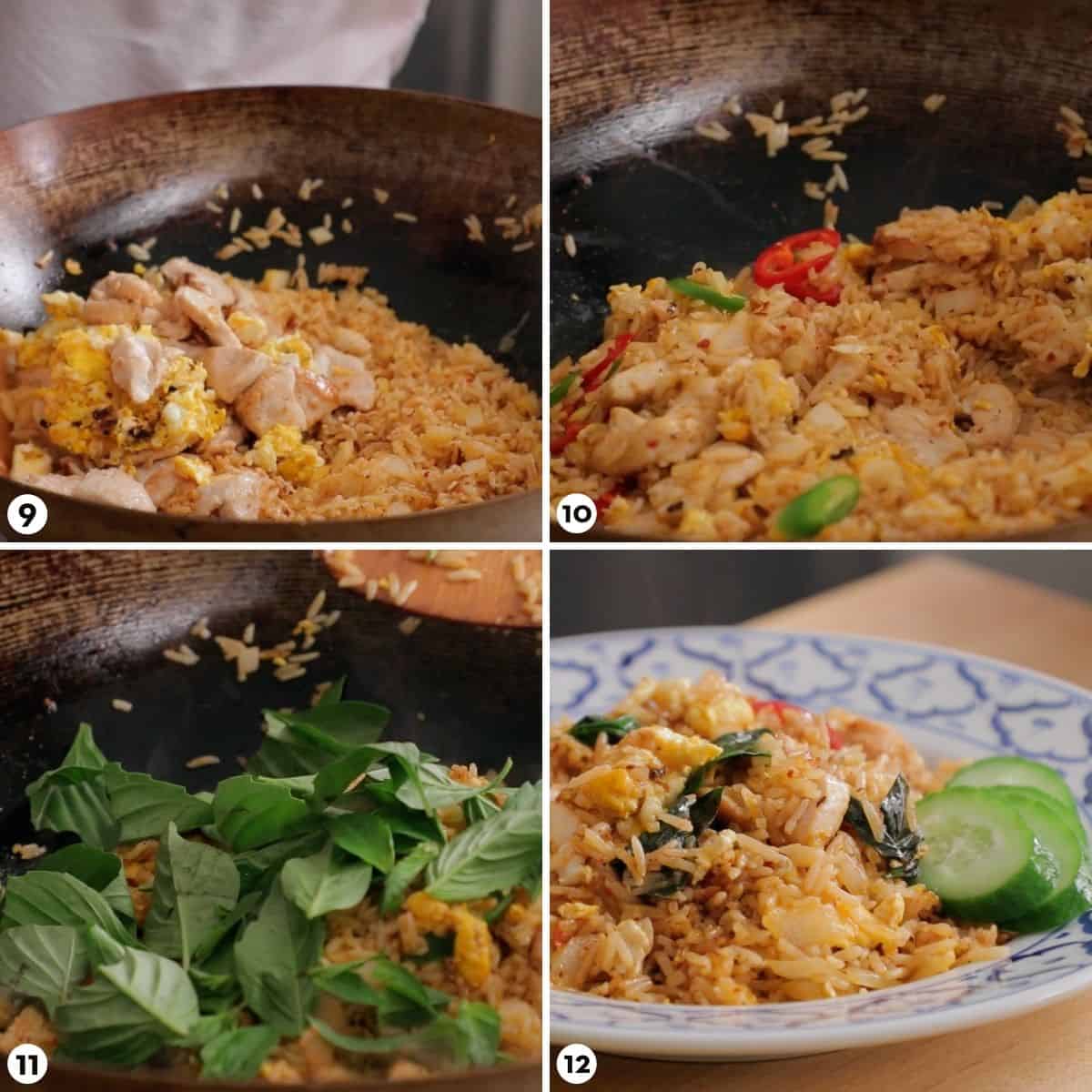 Add chicken and eggs back in and toss.
Add fresh chilies.
Add Thai basil and toss just until wilted.
Serve with cucumber slices and add a squeeze of lime before eating!
3 Pro Tips for the Perfect Fried Rice with No Clumps!
Making fried rice is easy in theory, but many people run into issues of mushy rice, clumpy rice, or rice that tastes like "mixed rice" rather than fried rice with that nice toasted flavour. As a chef who has worked in restaurants that churn out fried rice, here are some tips to help you with these issues.
Your rice needs to start out DRY...but you don't need day-old rice.
We're adding wet things, i.e. the sauce, meat, veggies, so 
if the rice starts out already too moist, you risk clumpy or mushy rice. 
This is not a problem with commercial stoves with very high heat that dry out the sauce quickly. But at home we generally have weaker stoves, and we tend to crowd the pan cuz we're feeding a family of 4. So what to do? If you have cold, old rice in the fridge, great. That will help because the rice dries and loses stickiness when chilled, so they separate better in the pan. But if you don't have leftover rice, it is NOT a problem at all. Here are somethings you can do.
If you're making fresh rice, add a little less water. For jasmine rice, use a 1 to 1 ratio of rice to water, instead of the usual 1 to 1.25.
If you already have hot rice made, spread the rice out onto a plate while you prep so that more steam can escape and it can cool and dry. If you have extra time once it's cooled to room temp, you can stick it in the fridge to cool it further.
Allow your rice to "sit and sear"
After the rice has mixed thoroughly with the sauce, don't rush it. Let it sit and sear for 10-15 seconds at a time, depending on the heat of your stove, so that the rice can toast and brown. This is where the flavour develops. Remember this is fried rice, not "mixed rice". See how I do this 
in the video
 at minute 06:45.
Always use marinated protein
You've got delicious fried rice, but it's being interrupted by pieces of bland, dry boneless skinless chicken breast
...a common a way to spoil an otherwise perfect dish! So if using chicken, pork, beef, or even tofu, always marinate to give them flavour so they don't take away from the rice. Shrimp isn't usually an issue though because they are more flavourful to start, so you don't need to marinade them. A simple soy sauce or fish sauce marinade is fine, but I like to add a little sugar to help with browning (and flavour) and a little bit of water which will get absorbed into the meat like a brine and make it extra juicy.
 The water also gives us a bigger buffer in case we accidentally overcook the meat, which is easy to do!
Frequently Asked Questions
What is a good substitute for Thai chili paste?
Unfortunately, nothing. The flavour of Thai chili paste is so unique and complex, that nothing you use can even approximate its flavour.
How can I make this recipe vegan?
Unfortunately chili paste contains dried shrimp, so there's no way to make this dish vegan, but you make your own using my recipe and substitute the dried shrimp with some chopped rehydrated dried shiitake mushrooms.
What is a good substitute for Thai basil?
Thai basil is added for freshness and fragrance. Regular Italian basil will work fine here, but you can't find any, chopped cilantro and/or green onions can also work in a pinch.
EQUIPMENT
A wok or a 12-inch skillet
INGREDIENTS
Marinated chicken
8

 

oz

 

chicken breast

, 

boneless skinless, bite-size pieces about 1 cm thick

2

 

tsp

 

soy sauce

¼

 

tsp

 

sugar

1

 

Tbsp

 

water
Fried Rice
1 ½

 

Tbsp

 

Thai chili paste 

, 

plus about 1 tsp of the oil, if desired

2-3

 

tsp

 

fish sauce

3

 

Tbsp

 

neutral oil

, 

or as needed

2

 

eggs

4

 

cloves

 

garlic

, 

chopped

½ - 1

 

tsp

 

roasted chili flakes

, 

see note 1

12.5

 

oz

 

cooked jasmine rice

½

 

cup

 

diced onion

3

 

Tbsp

 

sliced fresh chilies

, 

see note 2

1

 

cup

 

Thai basil leaves

Lime wedges for serving

Cucumber slices for serving
INSTRUCTIONS
Combine the chicken with all marinade ingredients and mix well. Let it sit for at least 15 minutes, stirring halfway through, and until most of the water has been absorbed into the chicken and is no longer pooling.

8 oz chicken breast,

2 tsp soy sauce,

¼ tsp sugar,

1 Tbsp water

Mix the chili paste with 2 tsp of fish sauce to loosen it up and allow it to mix more easily into the fried rice.

1 ½ Tbsp Thai chili paste,

2-3 tsp fish sauce

Sear the chicken: Heat a wok or a large nonstick skillet over high heat and add just enough oil to coat the bottom. Once the oil is very hot, add the chicken and spread it out into one layer. Allow the chicken to sear until the underside is browned, then toss and keep cooking until the chicken is cooked through. Remove from the pan, leaving the oil behind.

Scramble the eggs: In the same pan, add a little more oil if needed (if using a nonstick pan you may not need any oil at all) and heat at medium high until it's hot and ready to go. Add the eggs and scramble them, keeping the yolks and whites slightly marbled. Once the eggs are done, remove from the pan. At this point if the pan has some bits of eggs stuck on it you can wipe or scrape them off, but there's no need to clean the pan. (PS. The egg is cooked separately and added back in in order to keep its colour vibrant. Otherwise it will get coated in the chili paste and everything looks the same colour.)

Fry the rice: Add about a tablespoon of oil to the wok and heat it over medium heat. Add the garlic and dried chilies and saute until the chilies start to smell a bit smokey, about 1 minute.

4 cloves garlic,

½ - 1 tsp roasted chili flakes

Add the rice and toss with the garlic briefly, then turn the heat up to high. Add the onion and the sauce and toss until the rice grains are separated and evenly coated in the sauce. If there are clumps, use your spatula to push them down to break them apart.

12.5 oz cooked jasmine rice,

½ cup diced onion

Add the eggs and the chicken back in along with any collected chicken juices in the bowl. (*If for some reason your rice is looking too moist and it doesn't look like it can handle more liquid without getting mushy, hold back on the chicken juices.)

Turn off the heat then taste and add more fish sauce if needed. Add the fresh chilies and Thai basil and toss just until the basil is wilted.

3 Tbsp sliced fresh chilies,

1 cup Thai basil leaves

Serve with lime wedge and fresh cucumber slices, be sure to squeeze the lime over the rice before eating!

Lime wedges for serving,

Cucumber slices for serving