What if all roads went underground?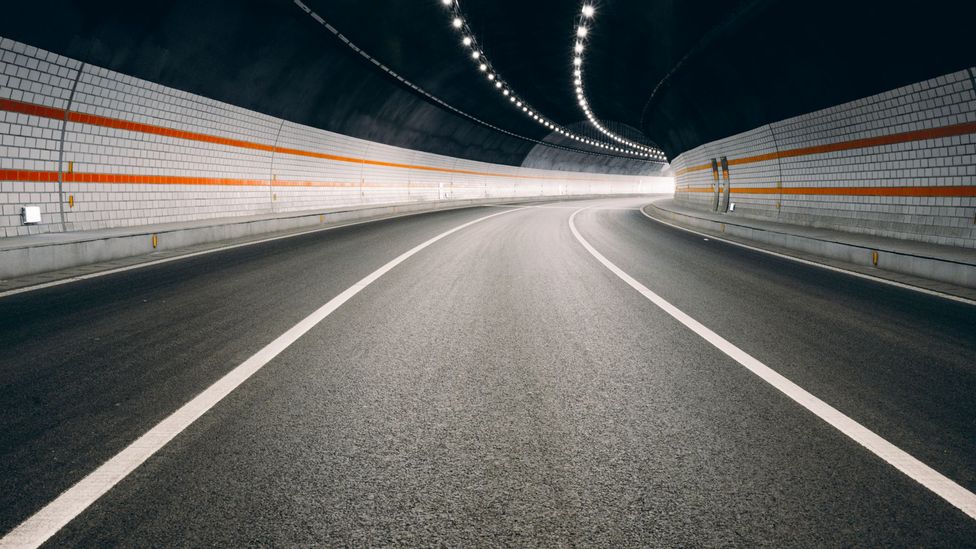 Roads pollute cities, eat up public space and fragment habitats. Could moving them underground help?
In 1863, in an effort to reduce street traffic, London opened the world's first underground line, the Metropolitan Railway. Its birth can be traced back two decades before to the building of the world's first under-river tunnel below the Thames, which swiftly became both popular with pedestrians and a huge tourist attraction.
Initially, what would become the London Underground consisted of tracks dug slightly below the surface and then covered over. But as the technology improved, and trains switched from steam-powered to electric, the lines went deeper. Now the ground beneath Londoners' feet hums with an extensive network of Tube lines ferrying people about the city speedily, efficiently – and out of sight.
There's a huge appeal to putting infrastructure underground, says Bradley Garrett, a cultural geographer at University College Dublin and author of Subterranean London. "Human beings tend to like those things to be operating in the background." It gives the illusion of seamlessness, he says. "There's almost something magical about it."
Along with trains, powerlines, pipes, cables and sewers, there's another piece of infrastructure some have long wished to bury – roads.
No one, not even Elon Musk, has suggested burying every single one of the world's roads. But what would happen if we did relocate them all below the surface?
To some, these thick asphalt ribbons criss-crossing countries, paving over green space and cleaving apart communities and ecosystems no longer seem fit for purpose. As they sprawl longer and wider in the hopes of speeding up clotted traffic, congestion ticks upwards and cars continue to pollute the air and spew greenhouse gases.
There are more than 64 million km (40 million miles) of roads globally and large increases are predicted, especially in developing countries, as the world's population grows and incomes rise, meaning more people can afford cars. It is projected that there will be two billion cars on the road by 2040, with total traffic levels increasing by more than 50%.
Gridlocked traffic is not only a huge time suck – the average American driver wastes around 54 hours each year sitting in traffic – but it has an environmental toll, increasing fuel consumption, carbon emissions, and air and noise pollution.
"Traffic is soul destroying, it's like acid on the soul," Tesla founder Elon Musk said back in 2018 at an event for his tunnelling firm, the Boring Company. "Finally there's something, something that I think can solve the goddamn traffic problem." His answer: dig his way to better roads by putting them underground.
No one, not even Musk, has suggested burying every single one of the world's roads. But what would happen if we did relocate them all below the surface? In a time of increasing urbanisation, soaring inequality and climate crisis, imagining the impact this could have raises important questions about how our global transport system is developing – and prompts us to consider where we really want it to go.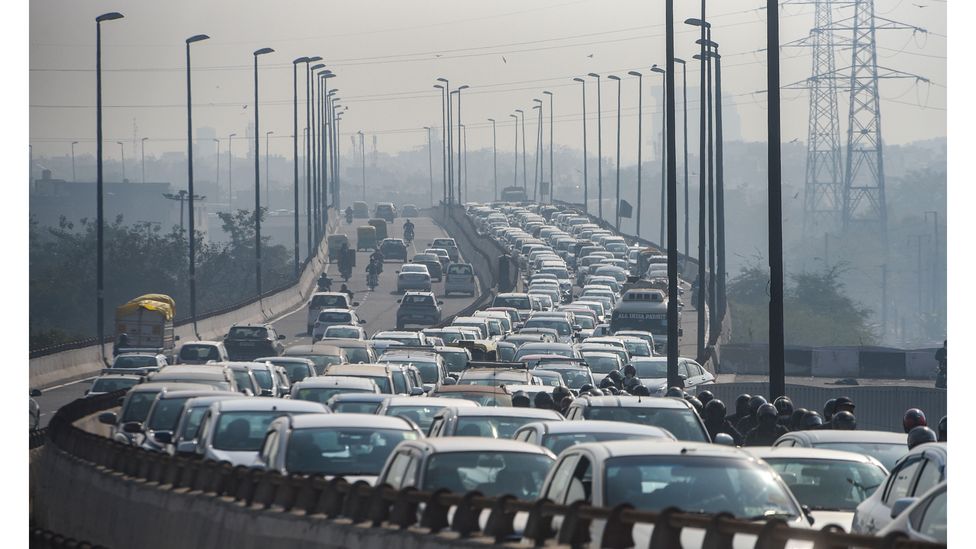 One of the most immediate impacts of a world without surface roads would be a huge freeing up of space across the globe.
In rural areas this could mean more land for farming or for rewilding, to help boost wildlife and pull carbon from the air. It would also mitigate one of the huge problems with roads: they fragment landscapes.
For animals, roads can act as a barrier, separating species from each other or from their prey. The global expansion of road networks threatens all apex predator conservation efforts, according to one recent paper, including by reducing their genetic connectivity and increasing poaching, with sloth bears and tigers the most at risk. Increased fragmentation is also leading to more carbon emissions, as it increases the amount of forest edges, where there is higher tree mortality.
Roads can also interrupt the flow of water, says Alisa Coffin, a research ecologist at the US Department of Agriculture. She points to the Tamiami Trail, a road connecting Tampa and Miami which has had disastrous effects for the Everglades by blocking water flow, leading to an increase in wildfires and impacting plants and animals. "It's an example of how a road was built without really understanding what the impacts would be," Coffin says.
Collisions between animals and cars are another big problem. Sarah Perkins, a Cardiff University lecturer, coordinates Project Splatter, a decade-old citizen science research project which monitors wildlife killed on UK roads. It receives about 10,000 reports of dead animals every year she says, but Perkins believes that's a fraction of the real total. Some studies have put roadkill numbers at hundreds of millions a year in Europe alone.
Putting roads underground "could lead to less wildlife-vehicle collisions", Perkins says – provided the animals didn't use the tunnels. It would also remove light and noise pollution, which can affect animal behaviour around roads, she adds.
Despite these huge ecological impacts of getting rid of roads, however, it would be in cities, which are predicted to hold 70% of the global population by 2050, where the newly freed-up space would have the biggest impact on people.
"Can you imagine how the cities will be transformed?" asks Tom Ireland, projects director of tunnelling at engineering company Aurecon. "If you want to revitalise the city centre, you pedestrianise the roads." It would open up room for trees, linear parks, landscaping, pavement cafes and scores of other public amenities.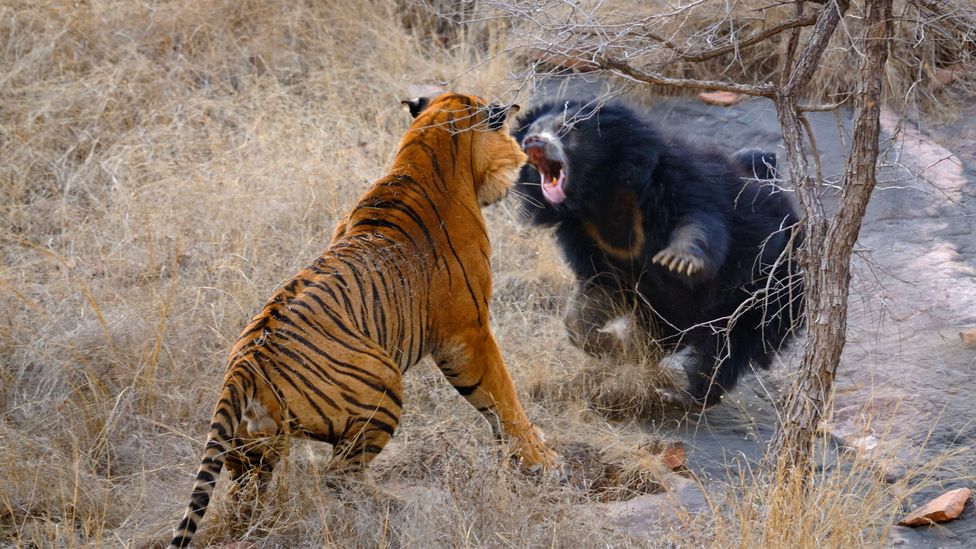 Boston's Big Dig, for example, a huge project to reroute underground the city's heavily congested elevated highway, created more than 300 acres (121 hectares) of open land. This includes the Rose Kennedy Greenway, a 17-acre (seven hectare) park with green space, fountains, art exhibitions and music festivals.
Parking spaces would also likely be moved underground to prevent heavy congestion if cars have to resurface, and could be reclaimed above ground as micro parks, public seating areas or even mini playgrounds – as is happening in Amsterdam which plans to remove thousands of parking spaces a year.
Parks and other green spaces make cities more resilient. As the climate crisis increases the frequency and intensity of extreme weather events, green space absorbs more water than non-pervious concrete, providing more protection against flooding. Trees can also reduce temperatures by up to 40% during the daytime.
For pedestrians, runners and cyclists, taking roads off the surface would mean they would no longer be forced to share the city with cars
People could also find themselves more connected to each other. Dislocated communities are one of the biggest problems caused by large roads, Ireland says. Physically separating neighbourhoods can cut people off from essential services such as grocery stores and restrict mobility, increasing income inequality and segregation. Getting rid of Boston's elevated arterial road has reconnected downtown Boston to the waterfront and brought together neighbourhoods that had previously been divided by the road.
A 2021 report looking at the impacts of capping highways in Seattle found that it could relink neighbourhoods and provide space for up to 4.7 million sq ft (0.44 million sq m) of new housing, though the study also stressed the need to make sure the benefits were equally shared and didn't lead to displacement of low-income families.
For pedestrians, runners and cyclists, taking roads off the surface would mean they would no longer be forced to share the city with cars. "Motor traffic mixing with people is inherently problematic," says Rachel Aldred, professor of transport at the University of Westminster in London, UK. Approximately 1.3 million people die every year due to road traffic accidents, the leading cause of death for people between the ages of five and 29.
It would also open up space for electrified public transport, such as trams, and make them more attractive options. "We need to make driving more difficult," Aldred says. "We need to make active travel and public transport that bit better."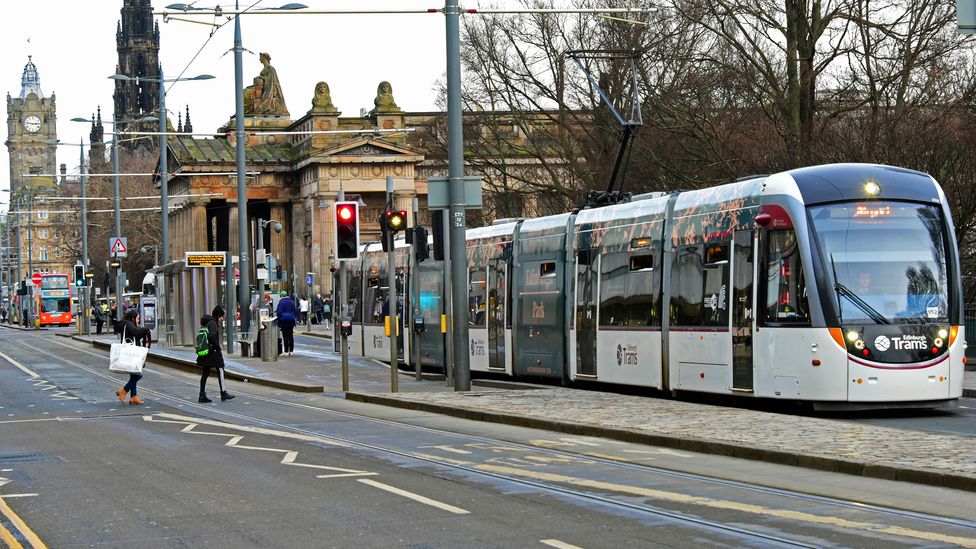 The biggest question for many people from all this is likely – would underground roads solve the traffic problem?
Potentially, experts say.
If the roads above ground were simply replicated underground, "I don't really see that congestion is going to improve," Ireland says. It's partly the theory of "induced demand": building roads simply encourages more people to use them, meaning congestion is virtually impossible to solve just by increasing road capacity. "It has to be a different paradigm," he says.
Automated cars locked into lines moving at consistent, controllable high speeds could do a lot to improve congestion and take away the stop-start problems of surface roads. Cars could be shared in the system. "You could see a world where private vehicle ownership is no longer really a thing," says Ireland. "You can use your phone and just call up a rideshare that is driven autonomously." However, the world is still years away from self-driving cars, as companies scramble to deal with a knot of safety issues. And even then, some reports suggest self-driving cars could end up making traffic worse as people may choose driverless cars over public transport and be unwilling to car share.
The experience of driving underground may be smoother, as people are able to avoid unpleasant weather such as extreme heat, cold or driving rain at the surface. "You can climate-control everything, you can engineer your existence very efficiently underground," Garrett says. "And that does mean generally that the infrastructure we build underground lasts longer."
Millions of fossil fuel-powered cars zipping around beneath the surface would bring major hazards itself
Underground infrastructure has also been found to be less at risk from earthquakes. A powerful earthquake in Chile in 2010 caused devastation at the surface in Santiago but hardly any damage to the metro system, says Broere. "The tunnel and the soil are moving together. So there's limited impact of the earthquake on the structure of the tunnel."
But in other contexts, underground roads are more hazardous. Flooding – which is becoming much more common and intense as the climate crisis bites – poses a serious risk. Portals for pedestrians to enter or leave the road system would need to be a few metres above the surface level to lessen the risk of water pouring in, says Broere. In Bangkok, for instance, the entrances to the metro system are metres above the surface to protect it during monsoon season. During the Gotthard tunnel disaster in Switzerland in 2001, meanwhile, an underground fire reached such high temperatures that cars fused together.
The lack of surface roads could also put drivers in vulnerable situations after they leave their cars. The underground road network would require lifts or stairs to transport people to surface portals. And if cars remain privately owned, people would need to park them – either in garages underground or potentially in multi-storey high-rises built above the portals – and then get home by other means. For lone drivers late at night, this could be intimidating and scary. "From a social safety perspective, it doesn't feel safe because you're alone," says Broere.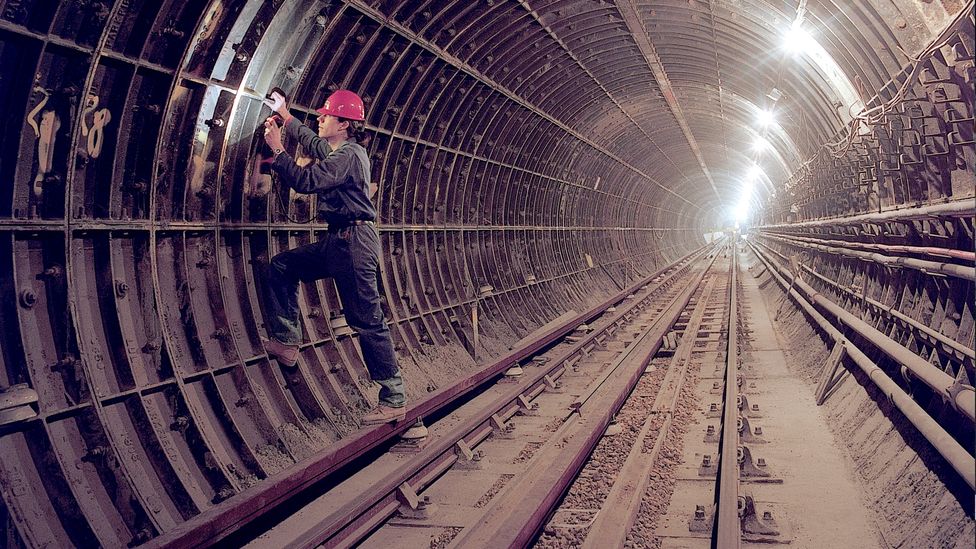 Millions of fossil fuel-powered cars zipping around beneath the surface would bring major hazards itself. "The risk of an accident resulting in a fire is quite significant," says Broere, and the consequences of that happening below ground are likewise significant: the smoke won't escape by itself.
"You would have to think so much about evacuation," said Garrett. The tunnels would have to be wide enough to enable cars to be moved off the road and emergency services to reach people.
Fine particulate pollution and ozone from vehicle exhaust emissions have been linked to about 385,000 premature deaths per year globally. Placing roads underground would almost eradicate vehicle pollution on the surface, with big impacts on air quality, but this pollution would be simply transferred elsewhere. "You really have to put a lot of thought into ventilation in those spaces so that you don't end up with a rather apocalyptic scenario," Garrett says.
Pollution would need to be captured, scrubbed and released via stacks – likely a very energy-intensive process. But as cars become electric over the next few decades, Broere says, "you eliminate a lot of the pollution aspects and, in part, you eliminate fire safety aspects as well". However, while 80% of all new car sales are predicted to be electric vehicles by 2050, the long lifespan of petrol-powered cars means that they will still make up the majority of cars on the road even then.
There is one form of pollution, however, that underground roads would indisputably tackle: noise. Road traffic is the biggest form of noise pollution in Europe. Globally it's the second-most-harmful environmental stressor, according to the World Health Organization (WHO), linked to cardiovascular disease, stress, hypertension and even premature death. Calmer and car-free neighbourhoods would likely result in significant physical and mental health improvements.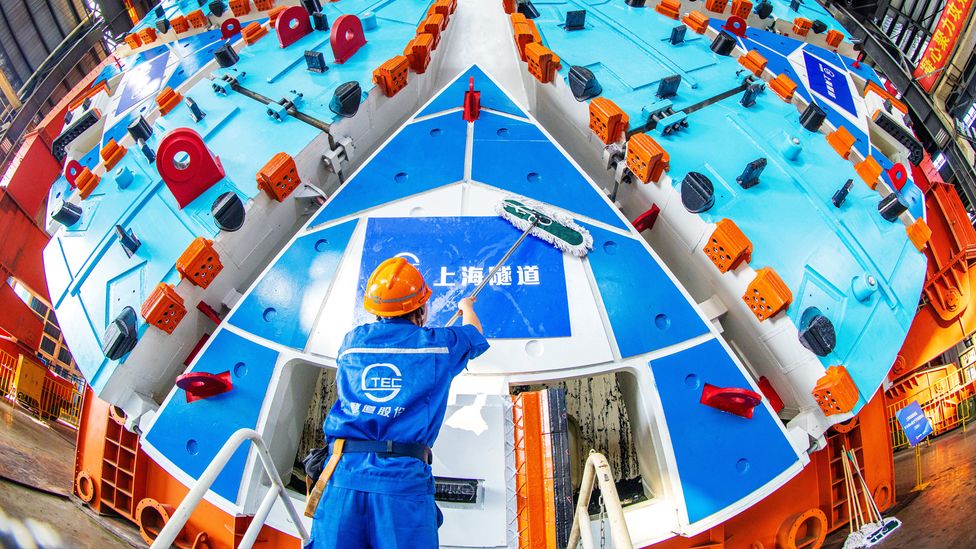 But if we did decide having roads underground would be preferable, would the financial cost be prohibitive?
"It's exponentially more expensive than building a motorway on the surface," Garrett says. Not only is digging expensive but huge amounts of concrete – a carbon-intensive material – are required to reinforce the tunnel.
How expensive depends on location. Estimates suggest the cost per mile of underground tunnel in China, India and Southeast Asia is in the region of $100-$200m (£81-£162m), in Europe $250-$500m (£202-£404m) and in the US, anything from $1.5-2.5bn (£1.2-£2bn).
Boston's Big Dig, which took 7.5 miles (12km) of road underground, took about 15 years to complete and is estimated to have cost more than $20bn (£16bn), far exceeding the $2.6bn originally earmarked for the project.
While tunnel-boring-machine technology has advanced, it remains a slow and painstaking process. It's not just the cost of the machine, the labour and the materials but also the expense of navigating bureaucratic requirements such as permitting and environmental impact reviews.
CARBON COUNT

The emissions from travel it took to report this story were 0kg CO2. The digital emissions from this story are an estimated 1.2g to 3.6g CO2 per page view. Find out more about how we calculated this figure here.
Projects have to navigate a tangle of other subsurface infrastructure. Take London, says Garrett, which has the sewer system, electricity, water and gas tunnels, the Tube, deep level shelters from World War Two and the Cold War and below all of that, new infrastructure including the super sewer and the new Crossrail system.
Misjudging the underground landscape can be costly. In Seattle, a project to sink the elevated Alaskan Way Viaduct was delayed for two years after the tunnel boring machine needed extensive repairs, which tunnel contractors blamed on the cutter head hitting a buried steel pipe.
And costs wouldn't stop when construction finishes. Ventilation fans and lighting – at levels comparable with the outside – must run 24 hours a day, guzzling energy, while operators would need to monitor the system for risks such as fire, Ireland says.
Governments would struggle to recoup these huge financial outlays. Some money could be raised by charging motorists a toll fee. And as most roads are publicly owned, governments in expensive cities could sell off some of the newly freed-up land to help fund construction, says Juan Matute, deputy director of UCLA Institute of Transportation Studies.
Still, diverting budgets to huge underground road projects would come at the expense of a host of other public services, including public transport – which is much more efficient than private cars, Aldred says. Mass transit systems, already woefully underfunded in many countries, could fall into further disrepair. This would embed inequality, especially in low-income countries, as those who cannot afford a private car would be forced to rely on services which may not only be unreliable but also unsafe.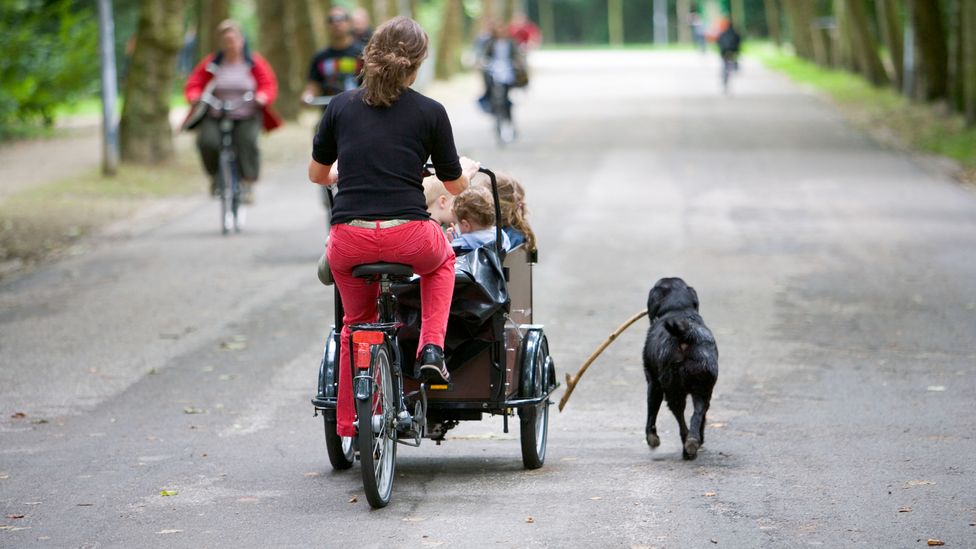 All this means that the advantage of underground roads would be individual, Matute says. People would "have their private cocoon of a personal vehicle that's able to access this underground network… most of the benefits are privatised".
Governments spending trillions on a system for individual cars as opposed to, for example, a Tube-style metro network would also mean "allocating very large amounts of resources to something which is inherently inefficient", Aldred says. It will always be cheaper per passenger mile to have a high-capacity vehicle like a train or a bus, rather than individual private vehicles. Replacing private car journeys with journeys by public transport could reduce the need for ever more road space.
Less complex and relatively expensive policies, such as congestion charges for petrol-powered cars, could help cities reduce car use, lower pollution levels and raise money to install more green spaces, parks and trees, Matute says.
Road impacts on animals and ecosystems can be mitigated by measures such as wildlife bridges or elevating roads to reduce impacts on water flow, something which is already happening with the Tamiami Trail in Florida. Some roads could even be closed during animal migration periods, Coffin says.
"The question that should be asked when evaluating any type of proposal is: whose problems is it solving?" Matute says. "There are profound social issues when it comes to how we navigate around cities," he says. There will never be one simple solution for these.