Pilots' strike pushes SAS airline into bankruptcy move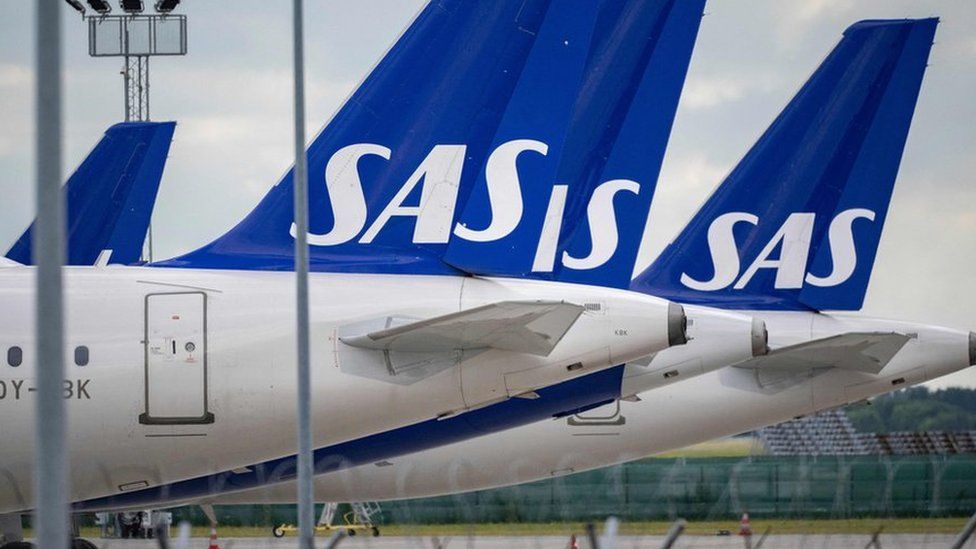 Scandinavian airline SAS has filed for bankruptcy protection in the US as a strike by its pilots added to its financial problems.
The move will allow the carrier to continue operating, although the strike has grounded about half its flights.
SAS said the industrial action meant the airline had brought forward plans to restructure its finances.
The aviation sector was hit hard by the coronavirus pandemic as demand for travel collapsed.
However, in recent months airlines and airports – which shed thousands of jobs during the pandemic – have struggled to cope with the rebound in air travel.
EasyJet's chief operating officer resigned on Monday after a series of flight cancellations and disruption at the airline in recent weeks.
Some of the disruption in the sector has been caused by staff shortages, but several airlines are facing the threat of strike action over summer as workers push for higher pay.
SAS pilots are striking in a row over plans to cut their salaries as part of the airline's restructuring plan.
Funding talks 'advanced'
The Chapter 11 bankruptcy mechanism allows a company to restructure its debts under court supervision while continuing to operate.
SAS said that talks to raise $756m to continue its immediate operations were "well advanced".
Other non-US airlines including Aeromexico and Philippine Airlines have used Chapter 11 protection while they renegotiate contracts and financial arrangements with key suppliers.
"Through this process, SAS aims to reach agreements with key stakeholders, restructure the company's debt obligations, reconfigure its aircraft fleet, and emerge with a significant capital injection," SAS said in a statement.
The airline said that the strike by pilots was "estimated to lead to the cancellation of approximately 50 percent of all scheduled SAS flights," affecting about 30,000 passengers a day.
SAS cut 5,000 jobs – 40% of its workforce – in 2020, as it attempted to reduce losses resulting from the pandemic.