How much grain is being shipped from Ukraine?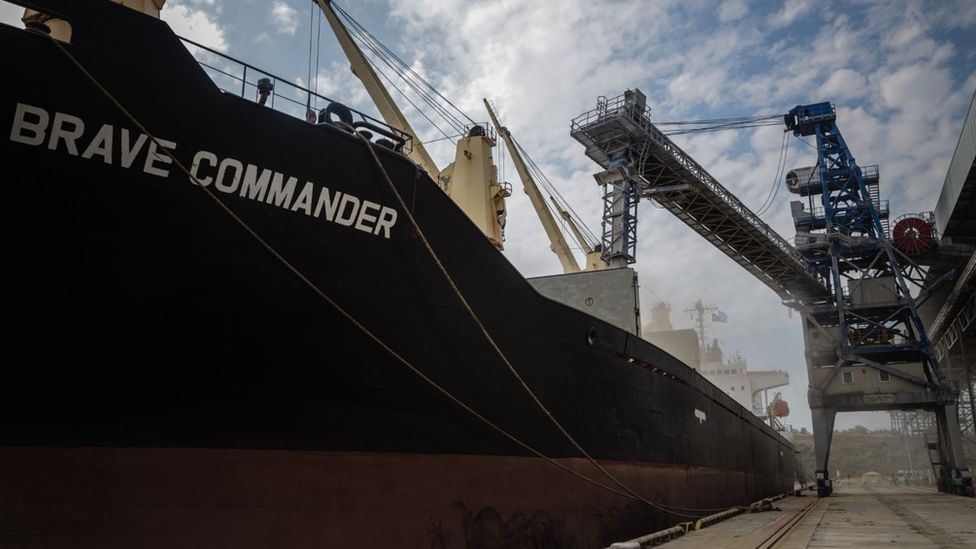 Over half a million tonnes of wheat and other types of food have been shipped from Ukraine's ports in the past month, says the United Nations.
On 22 July, Russia lifted its blockade of the ports, allowing ships to use a safe corridor through the Black Sea.
However, Ukraine is only exporting grain at half the rate that it was before the war.
How much grain has been stuck in Ukraine?
About 20 million tonnes of grain meant for export has been trapped in Ukraine since February, along with other foodstuffs such as maize and sunflower oil.
This has caused an undersupply of food and soaring prices in many countries around the world.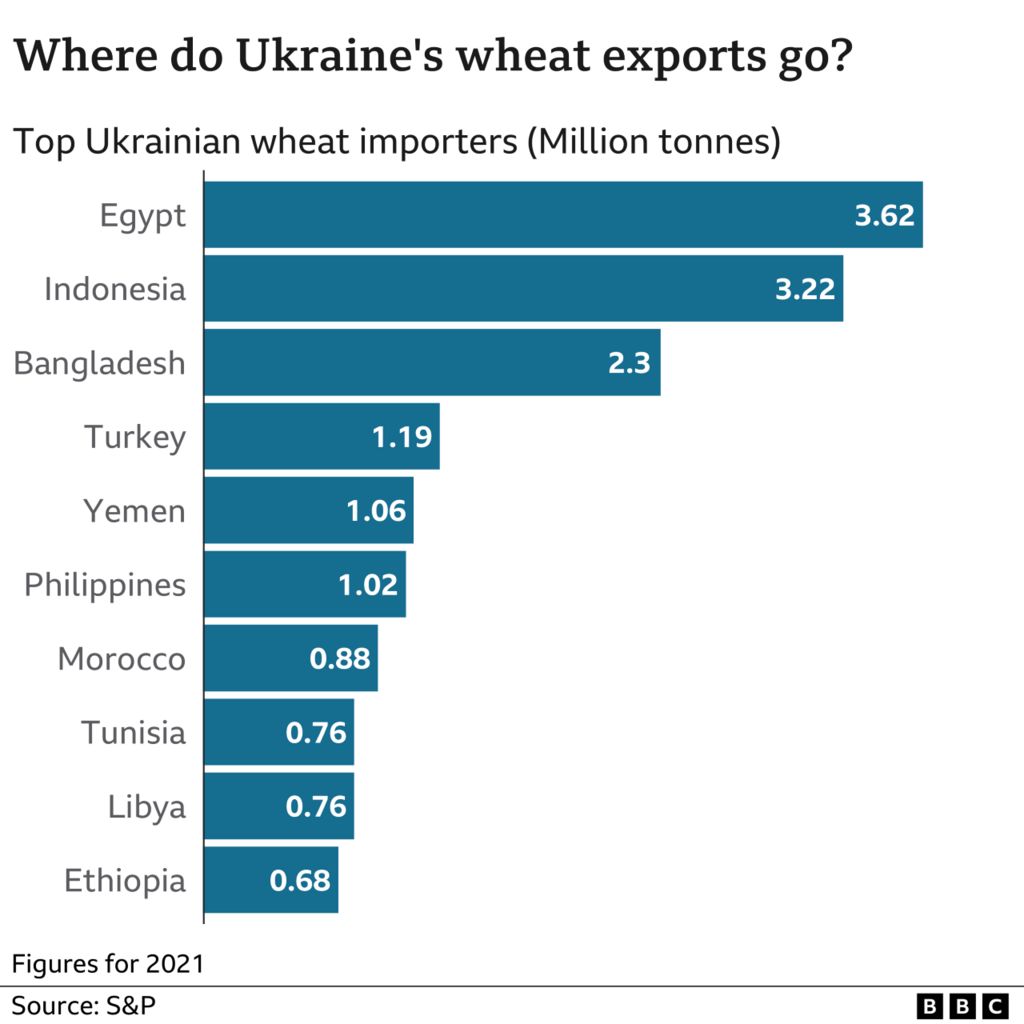 The African Development Bank says it has contributed to a shortage of 30 million tonnes of food across the continent, and a 40% rise in food prices.
In Nigeria, it has helped increase the price of staples such as pasta and bread by as much as 50%.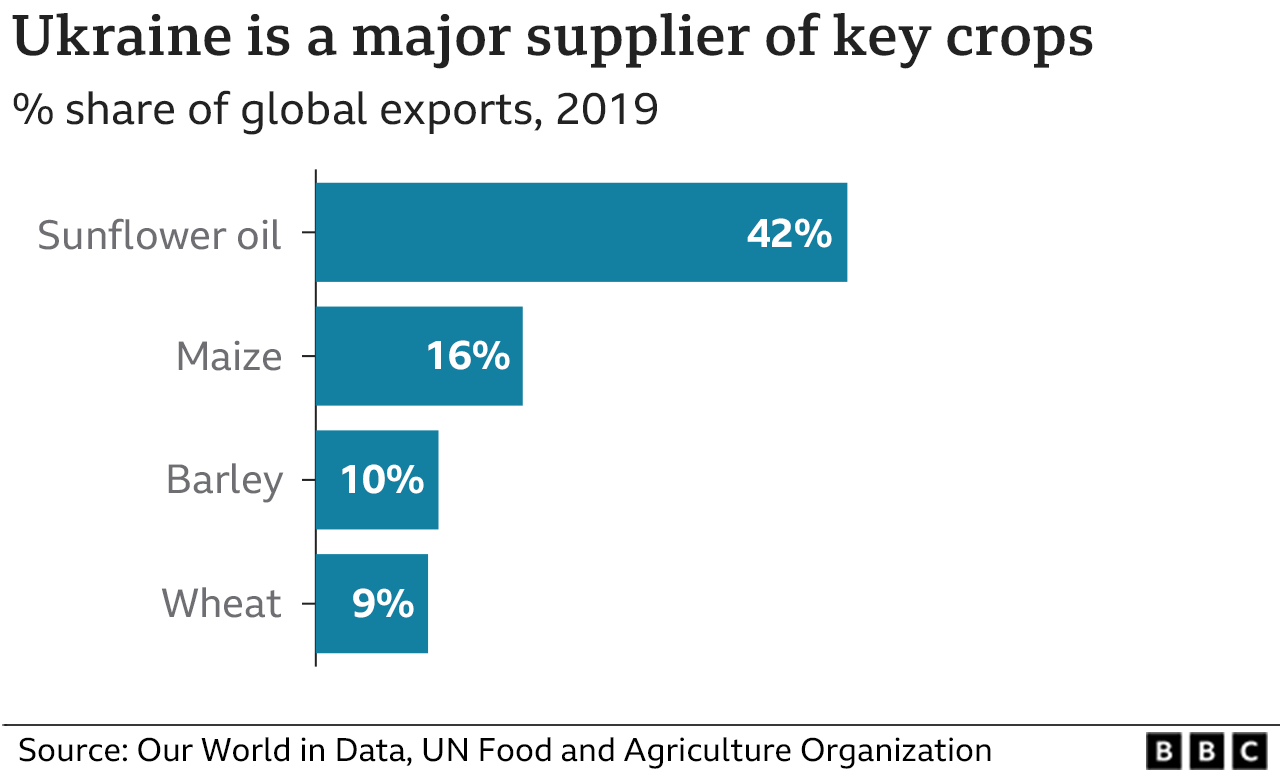 Yemen, which normally imports more than a million tonnes of wheat a year from Ukraine, saw the price of flour rise by 42% and bread by 25%.
In Syria, another big importer of Ukrainian wheat, the price of bread has doubled.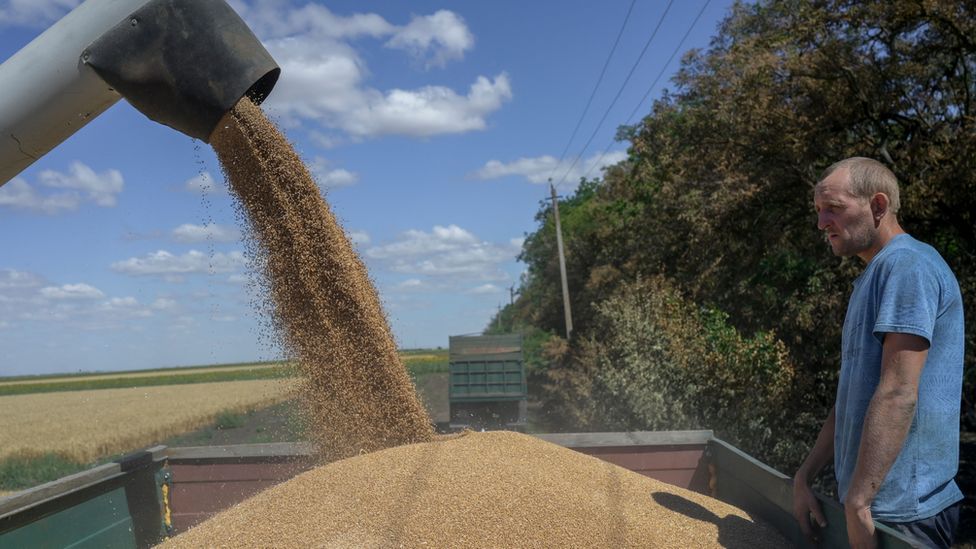 How much food is being shipped from Ukraine?
Since the safe sea corridor was set up on 22 July, 560,000 tonnes of grain and other foodstuffs have been shipped from Ukraine's ports.
This includes 451,481 tonnes of corn (maize), 41,622 tonnes of wheat and 6,000 tonnes of sunflower oil.
Global food prices fell as soon as the corridor came into force.
The UN's measure of world food prices – the FAO food price index – fell by nearly 9% in July.
Ukraine's government says 30 ships have been listed so far to load with foodstuffs at its ports.
The United Nations is a major buyer of Ukrainian grain, sending it to countries in danger of famine.
One ship, Brave Commander, is carrying 23,000 tonnes of UN-bought wheat to Ethiopia.
The UN says it has bought up 60,000 tonnes of Ukrainian wheat in total for needy countries.
Is enough food being shipped?
Ukraine's government says in the first half of August, only 948,000 tonnes were exported, by sea or by land.
In the same period last year, the country exported 1.8 million tonnes.
On a visit to Odesa, UN Secretary-General Antonio Guterres said: "Getting food and fertiliser out of Ukraine in larger quantities is crucial, to further calm commodity markets and to lower prices."
Ukraine's government says it will be able to export three million tonnes of grain in September, and four million tonnes in October.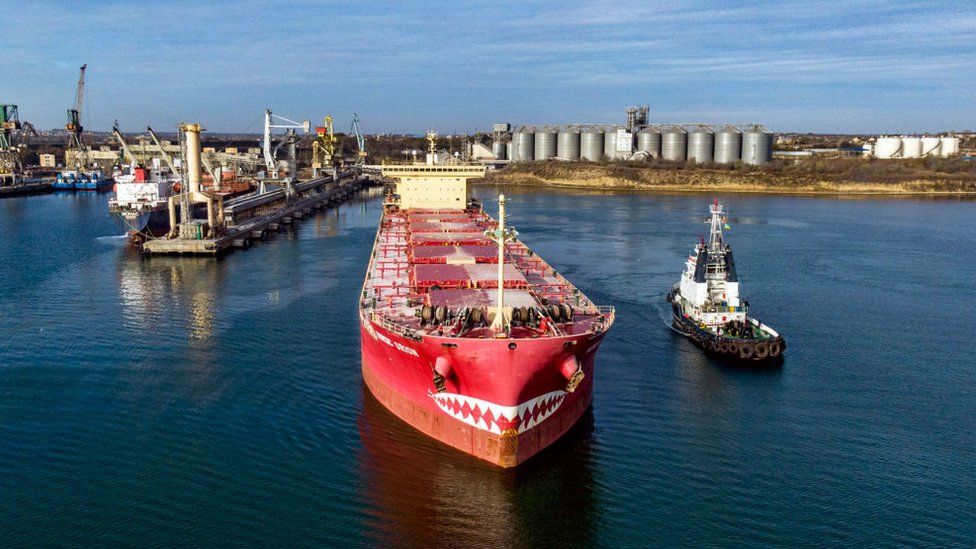 However, this depends on whether more shipping companies are prepared to send their vessels to Ukraine.
David Osler of the shipping journal Lloyd's List says that to take three million tonnes of food a month from Ukraine, 15 ships would have to load at its ports every day.
However, he says: "Ship owners fear sending their vessels there. They're still afraid their ships hitting a mine or getting attacked by the Russians."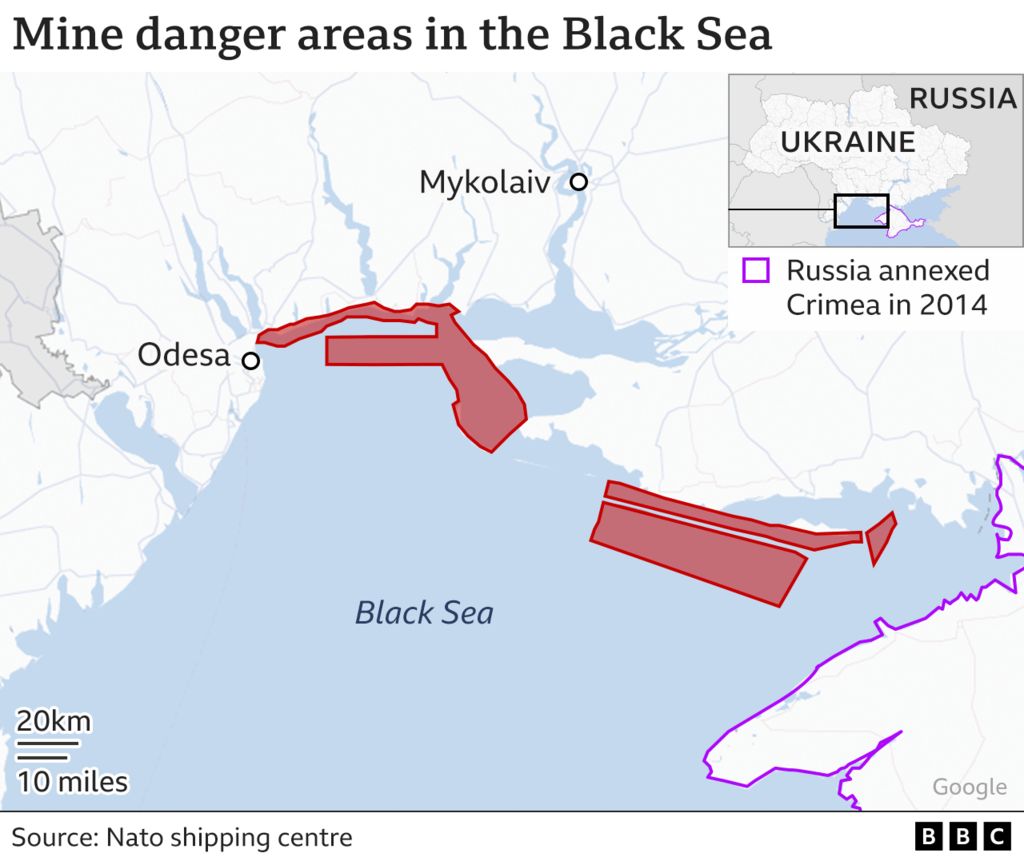 How does the safe sea corridor work?
Russia and Ukraine both signed deals with Turkey to establish a corridor from Odesa and two neighbouring ports to the Istanbul strait.
It is 310 nautical miles long and three nautical miles wide.
Ukrainian vessels guide grain ships in and out through mined port waters, and Turkey inspects the ships to allay Russian fears of weapons smuggling.
Russian exports of grain and fertiliser via the Black Sea are permitted.
The agreement expires after 120 days – in mid-November.
David Osler says insurers are charging premiums of 1% or 2% of a ship's value for every journey to and from Ukraine.
"That compares with premiums of 5% or 10% that were being charged before the safe sea corridor was created," he says.
"The rates are reasonable, given the circumstances, but ship owners still won't take the risk."
How could grain be exported without a safe sea corridor?
When its ports were blockaded, Ukraine tried to export as much as it could by land, using trucks and trains.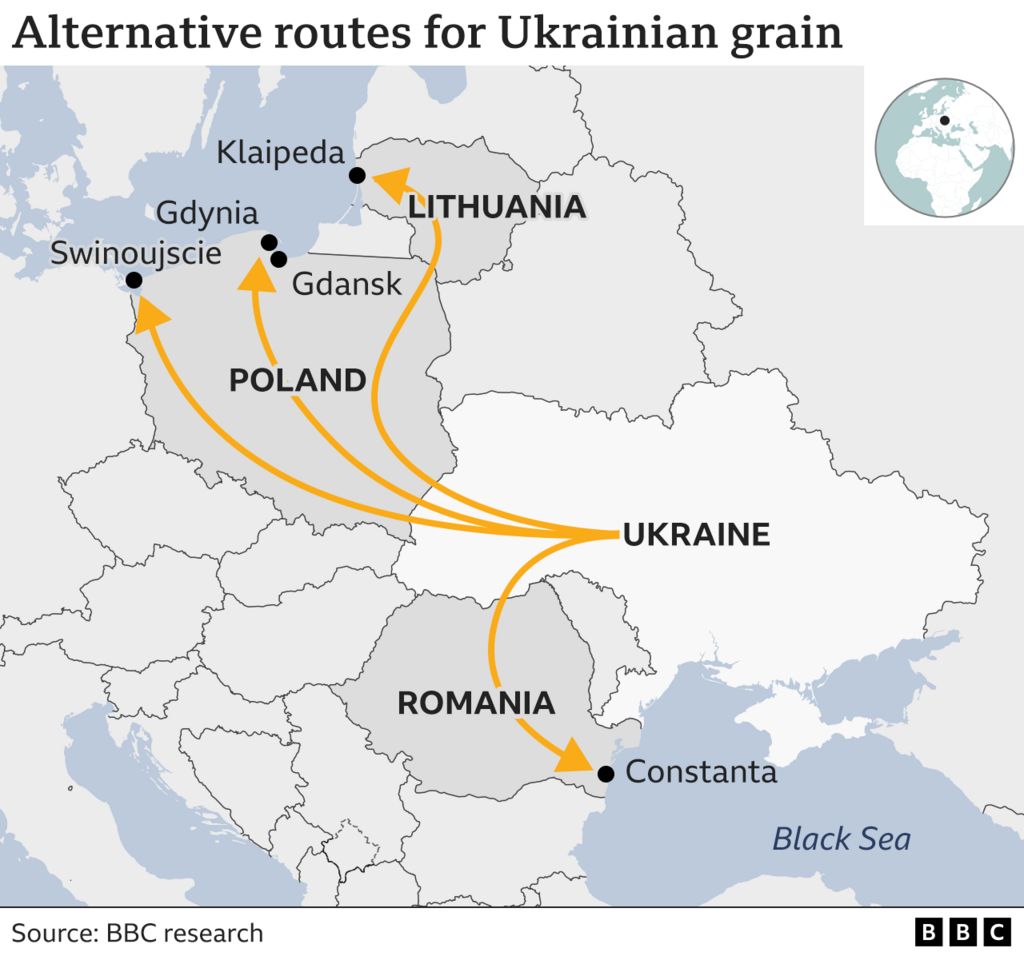 The EU set up what it called "solidarity lanes," so that Ukrainian grain could be shipped from ports on the Baltic Sea, and also from the Romanian port of Constanta.
However, a lack of road and rail capacity means that Ukraine can export only 10% of its grain at most by land.