Heathrow Airport announces more flight cancellations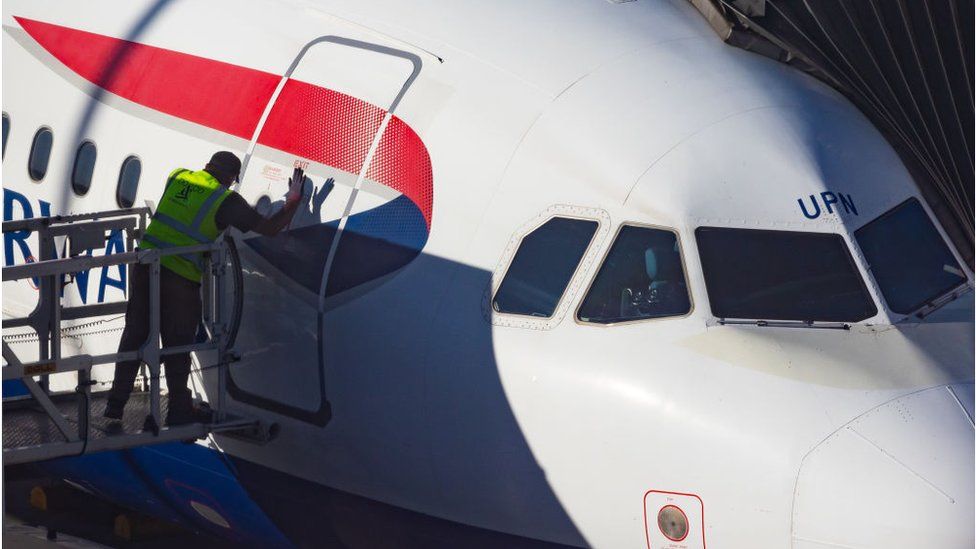 Heathrow Airport has asked airlines to remove 30 flights from Thursday morning's schedule because it is expecting more passenger numbers than it can currently cope with.
In total, 1,200 flights were scheduled to leave throughout the day.
The airport claims the cancellations are necessary for both safety and to ensure as many passengers as possible catch their flights.
It said individual airlines would contact people who are affected.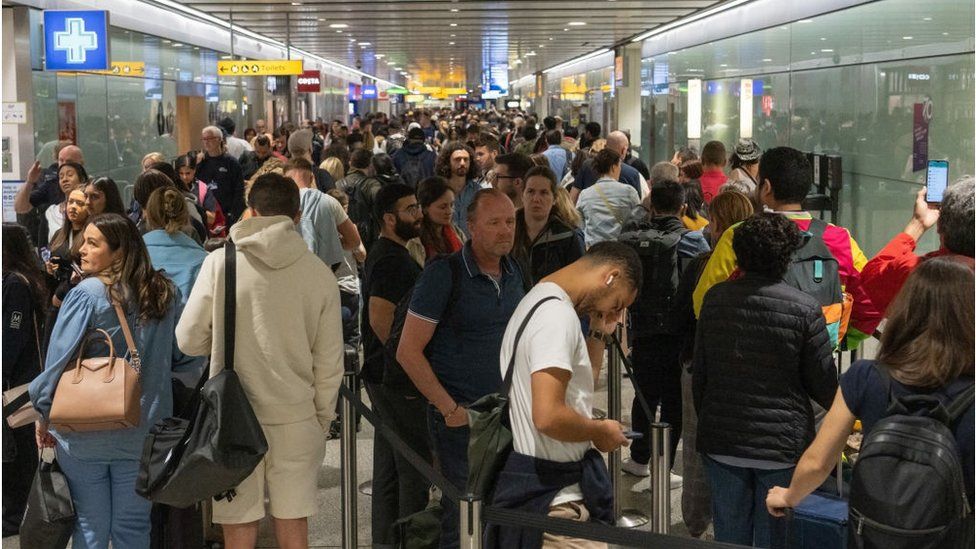 A similar number of flights were cancelled earlier this month because of technical problems with baggage handling equipment.
Thousands of aviation jobs were lost during the pandemic and many businesses have struggled to recruit enough new staff in time to deal with resurgent demand for travel following the easing of Covid rules.
A Heathrow spokesperson said the airport would work with airlines to try to rebook passengers onto other flights, "as many as possible" for later the same day.

Can you get compensation if your flight is cancelled?
If your flight is cancelled, you have the right to either a full refund, or a replacement flight.
"And that different flight does not need to be with the same carrier – it can be an alternative, as long it flies on the same day," says Julia Lo Bue-Said, CEO of Advantage Travel Partnership.
If you and the airline can't agree on a new flight, it will refund you.
If the flight was cancelled with 14 days or less notice, you may also be entitled to compensation – but only if the airline is at fault.
"If it's a direct result of the airline, you're entitled to compensation, but if it's the airport, your compensation doesn't kick in," says Mrs Lo Bue-Said.

British Airlines said "a handful" of their flights are affected, Virgin Atlantic said one of their Heathrow to New York return services has been cut in each direction, with Air France, KLM, American Airlines, Delta Airlines, Lufthansa, Aer Lingus, Brussels Airlines and Air Canada also affected.