Boris Johnson 'actively thinking about' third term as PM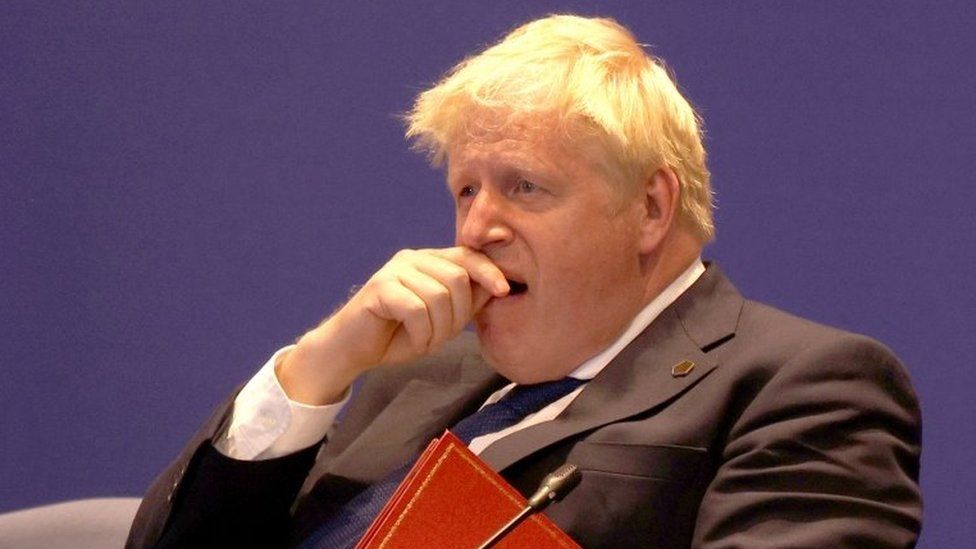 Boris Johnson has said he is "actively thinking" about a third term, amid criticism of his leadership.
The prime minister was asked if he would like to serve a full second term in office – to 2028 or 2029.
"At the moment I'm thinking actively about the third term and what could happen then, but I will review that when I get to it," he told reporters.
One Tory MP has said he wants the rules changed so Mr Johnson could face another confidence vote.
Speaking to reporters in Kigali, Rwanda, where he has been at the Commonwealth Heads of Government meeting, the prime minister was asked to elaborate on his comment, replying that he was thinking "about a third term – mid 2030s".
No 10 later suggested he was joking, but it points to Boris Johnson's bullish mood despite two bruising by-election defeats in the past week in Wakefield, and Tiverton and Honiton.
Following the results, party co-chairman Oliver Dowden resigned, saying "someone must take responsibility".
The Lib Dems overturned a huge Tory majority in Tiverton and Honiton – their third by-election victory over Boris Johnson's party in a year.
And Labour retook the seat of Wakefield, West Yorkshire, which it lost at the 2019 general election.
Former Conservative leader Michael Howard called on Mr Johnson to resign following the by-elections, adding "members of the cabinet should very carefully consider their positions".
Mr Johnson insisted he would lead his party into the next election, and said he wanted to keep driving forward his plan to reduce inequality across the country – what his government calls "levelling-up".
While acknowledging it would take time, he added that a "huge amount of progress" could be made in two parliaments.
He told reporters: "Forget about me, think about what this country, the UK could do and where it's gone.
"We've embarked on a massive project to change the government, the constitution of the country and the way we run our legal system, the way we manage borders, our economy, all sorts of things we're doing differently.
"Also at the same time we are embarked on a colossal project to unite and level up. I happen to believe in that incredibly strongly.
"Levelling-up is a great, great mission and it won't be easily accomplished and people will say it hasn't worked, it's not working yet, people in this constituency aren't feeling the benefits – it's going to take time and I want to keep driving it forward."
But Labour leader Sir Keir Starmer accused the prime minister of "taking voters for granted with impunity", saying "those days are over".
"They now face a credible Labour Party: a government-in-waiting with a plan to deliver on the country's demands," Sir Keir wrote in the Observer.
"For months, Johnson has been privately claiming that he will hold an early election. My message to him is simple: bring it on," he added.
During his trip to Rwanda to meet Commonwealth leaders, Mr Johnson showed little sign of the pressure he's faced from critics in his own party who've called on him to quit.
And Mr Johnson refused to comment on a report in the Times that he planned to build a £150,000 treehouse for his son Wilf in the grounds of Chequers, the prime minister's country residence, with possible funding from a Tory donor.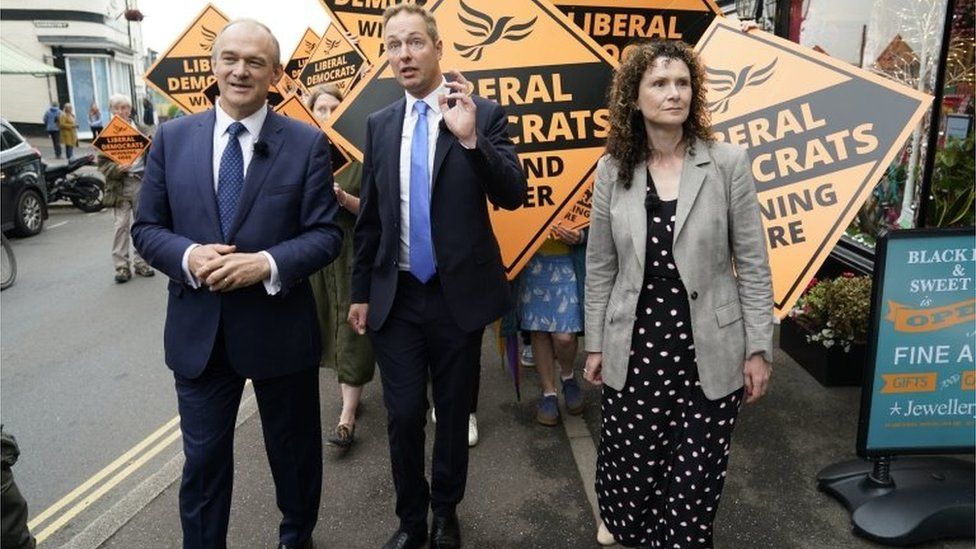 On Saturday he said the question of his leadership was "settled" after he won a confidence vote among his own MPs.
But Tory backbencher Andrew Bridgen confirmed he wanted the party's rules changed so that Mr Johnson could face another vote of confidence before 12 months are up.
Under the current rules, Mr Johnson is technically safe from a challenge until next June.
Mr Bridgen told the BBC: "Boris Johnson is actually galvanising an anti-Boris Johnson vote.
"The leader of the party should normally be more popular than the party itself, but what we're seeing with Johnson is he's a huge drag on the ticket."